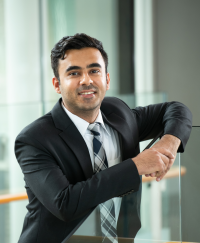 Policy Researcher
Vibhas Sukhwani works as a Policy Researcher for the Institute for Global Environmental Strategies in Japan. He mainly works for the Integrated Sustainability Centre's CES team led activities, focused on building regional partnership in the Asia-Pacific region, implementing research projects in collaboration with strategic partners to generate evidence-based knowledge on integrated approaches and promoting the co-development process for realizing integrated local actions.
Prior to IGES, he worked as a Researcher at Keio University (Japan), wherein he subsequently pursued his Ph.D. in the subject of urban-rural water linkages and integrated development planning (as a recipient of the prestigious Japanese Government Monbukagakusho 'MEXT' Scholarship). Working with multi-disciplinary and multi-cultural teams, he was continually engaged on a wide range of research and consultancy projects. Earlier, he has also worked as a Researcher at the Visvesvaraya National Institute of Technology (VNIT), India under a project funded by START International Inc., USA.
With an interdisciplinary research background, he applies various qualitative and quantitative research tools (systematic surveys, literature reviews, statistical analysis, GIS modelling, AutoCAD, WEAP, etc.) to conduct research in the areas of urban, rural and regional planning, disaster risk reduction, ecosystem-based approaches as well as sustainable development. He has authored numerous research publications, including several peer reviewed journal articles, book chapters of international repute, and reports. He was also a contributing author in the Intergovernmental Panel on Climate Change's (IPCC) Sixth Assessment Report (Chapter 10: Asia) 2022.
Research Topics & Areas of Expertise
Currently working on integrated approaches for development planning and resource management, including urban-rural linkages, water-energy-food nexus, circulating and ecological sphere approach, from conceptual, modelling and empirical perspectives. Other areas of expertise include urban planning, disaster risk reduction, water security.
Education
Ph.D. in Media and Governance (urban-rural water linkages) from Keio University, Japan
M.Tech. in Urban Planning from Visvesvaraya National Institute of Technology (VNIT), India
B.E. in Civil Engineering from Yeshwantrao Chavan College of Engineering (YCCE), India