IGES Integrative Strategic Research Programme for the Seventh Phase began in July 2017. Research in the Seventh Phase will focus on various issues related to sustainable development including climate change, natural resources management, resources efficiency, and the connections linking these issues. In line with strategic management and operations, IGES research aims to clarify emerging challenges currently facing Asia, as well as to develop policy research and recommendations for problem-solving.
Seventh Phase Research Structure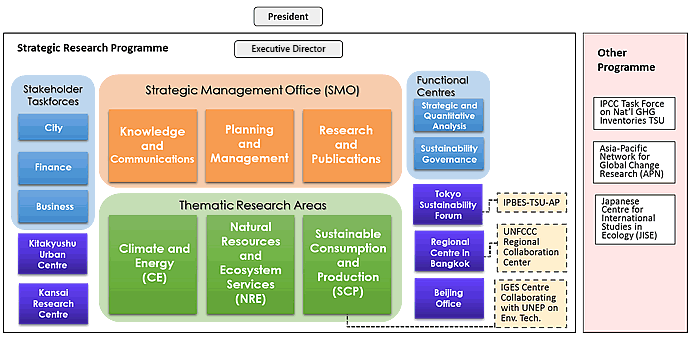 Contributing towards the realisation of low-carbon development in the Asia-Pacific region, through the creation of climate regime at the international, regional, country and local levels, and production of energy policy research outcomes.
Future climate regime
Energy Model Analysis
NAMAs/MRV
Climate Finance
Market Mechanisms
Asia Low Carbon Strategy
Building resilient societies through the sustainable management and use of natural resources.
Resilient Livelihoods
Forest Conservation
Climate Change Adaptation
Water Resource Management
Biodiversity
Conducting research activities to achieve sustainable consumption and production in Asian countries, and making corresponding changes in business practices and lifestyles for people's well-being.
Transitioning to SCP
Sustainable Living & Consumption
Resource Circulation & Integrated Waste Management
Fukushima Action Research
SCP Policy Process
Aiming to change from the current unsustainable development path onto one which improves human well-being, social equity and natural capital through green investment, creating green jobs and adopting low-carbon and resource-efficient technologies.
Transition to Green Economy
Green Investment and Green Jobs
Promoting Green Business
Policy Process & Dialogue
Considering not only environmental concerns, but also exploring ways of making substantial revisions and changes in existing socio-economic systems in the process of transitioning to sustainable societies, through the participation and empowerment of diverse stakeholders.
Integrated Policies for Sustainable Cities
Co-benefits
Sustainable Development Goals (SDGs)
Promoting sustainable business and propelling innovation, diffusion and transfer of low-carbon technologies in the Asia-Pacific region.
Low Carbon Technologies transfer and Application
Regional Circular and Ecological Sphere (R-CES)
Climate Change Adaptation & Disaster Risk Reduction
Supporting sustainable city development using low-carbon models, with cross-cutting analysis of environmental policies transmitted at the local government level.
Smart Cities
Eco Model Cities
Networking Eco Model Cities
Strengthening IGES's partnerships with key stakeholders in the region and engaging in activities to facilitate environmental policy development.
Climate Change Adaptation
Climate Change Mitigation
Environmental Safeguards
Local and City Initiatives
Conducting bilateral cooperation between Japan and China in the area of environment.
Strategic Planning and Coordination of Overall Research Activities
Flagship Products
Knowledge Management
Capacity Development
Quality Assurance of Research Outputs
Networking
Outreach
External Funding
Education and Learning for Sustainability