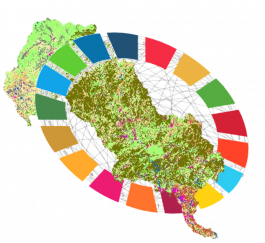 The Institute for Global Environmental Strategies (IGES) has launched an interactive online tool to assess how the observed and projected changes in river basins relate to various Sustainable Development Goals (SDGs) and their associated targets, from both a spatial and temporal perspective. The Interactive SDG Tool for River Basins is the outcome of the "River basins as 'living laboratories' for achieving sustainable development goals across national and sub-national scales (Luanhe Living Lab)" project funded by the UK's Natural Environment Research Council (NERC), the National Natural Science Foundation of China (NSFC), and the Japan Science and Technology Agency (JST). This two-year project comprises partners from the University of Glasgow, Loughborough University and Brunel University in the UK, Nankai University in China, and the Institute for Global Environmental Strategies (IGES) in Japan.
The Luanhe Living Lab project hypothesises that trade-offs between SDG goals and targets at the sub-national scale create inequalities between segments of society when attempting to achieve the SDGs at the national level. Motivated by the above hypothesis, the project aimed at improving the understanding of human-environment interactions by providing scientifically-grounded, policy-relevant information on the synergies and trade-offs between selected SDGs and targets at the sub-national level. The river basin scale, with the Luanhe River Basin in China as a case study, is the project's unit of analysis to represent the sub-national scale and constitutes ideal geography for the study of human-environment interactions. This is done through state-of-the-art modelling and analysis approaches to improve the understanding of the hydrology, sediment transport, flood risk and ecosystem services under various scenarios of large river basin development planning and land-use change, actively engaging with relevant stakeholders, and by developing the IGES Interactive SDG Tool for River Basins.
The interactive tool is based on the IGES SDG Interlinkages Analysis & Visualisation Tool (Version 4.0), which has been developed and updated since 2015 to support integrated SDG policymaking at the national level. The SDG Interlinkages Tool enables users to visualise the quantified causal links between SDG targets, identify potential synergies and trade-offs, and compare country progress and performance over time.