8 August 10:30-12:00 (MYT), 11:30-13:00 (JST)
The 26th Conference of the Parties (COP26) to the United Nations Framework Convention on Climate Change (UNFCCC), held in November 2021, solidified consensus around the new global goal of limiting the temperature increase to 1.5°C above pre-industrial levels. In order to achieve this goal, it is essential for each country to accelerate its efforts at various levels, including at the state, city, and district levels.
In addition, as COVID-19 continues to spread, cities are being forced to readjust and consider new measures to achieve sustainable development while also addressing challenges related to the spread of the virus. It is clear that adopting new approaches and new city designs through inter-city collaboration is critical.
The Tokyo Metropolitan Government (TMG) and the Kuala Lumpur Municipality (KL City) launched their city-to-city collaboration in 2019, aiming to transfer TMG's know-how to establish a system that will realise and promote KL's version of 'zero-carbon buildings'. The project has provided support for surveying the energy consumption of KL's 1955 public buildings, estimating their reduction potential. The project also supported in selecting public buildings that should be prioritised for energy-saving renovations and formulating guidelines. In addition to the existing collaboration between the two cities, Saitama City, newly selected as a leading decarbonisation area, joined the program this year. In Japan, "smart cities" are being planned and developed to address a host of challenges (climate change mitigation and adaptation, new infectious diseases, population decline, and disaster prevention and mitigation), and Saitama City has experience in successfully developing "smart home community" blocks in the Misono area (blocks 1 through 3). By sharing its knowledge and know-how with KL City, Saitama City is supporting the realisation of a new carbon-neutral district conceived by the Mayor of KL City.
This session will share the latest status of initiatives by KL City, TMG, Saitama City, and supporting organisations that are promoting advanced initiatives for achieving carbon neutrality. TMG, which has received awards from C40 and the World Green Building Council for its low-carbon building programs, will introduce its latest initiatives: its 2050 "Zero Emission Tokyo Strategy" and " Fast forward to "Carbon Half"" (e.g., revisions of the ordinance on the decarbonisation of the building sector, and resource recycling initiatives). Saitama City will also introduce how to promote societal transition and decarbonisation through "Smart Home Communities," a case study of urban development pioneered in the Misono District.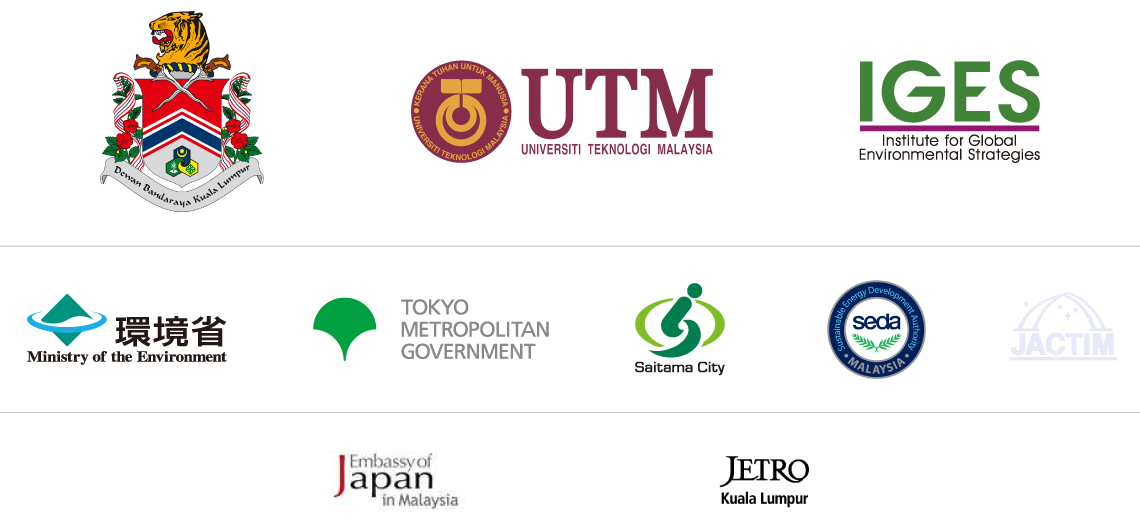 Event Details
Date
8 August 10:30-12:00 (MYT), 11:30-13:00 (JST)
Venue
Room Anjung Singgahsana, Menara DBKL, 1, Jln Raja Laut, Kuala Lumpur City
Co-Organisers
Universiti Teknologi, Malaysia (UTM)
Collaborators
Bureau of Environment, Tokyo Metropolitan Government
Sustainable Energy Development Agency (SEDA)
The Japanese Chamber of Trade & Industry, Malaysia (JACTIM)
Supporters
Embassy of Japan in Malaysia
Languages
Japanese / English
(Simultaneous interpretation)
Presentation Materials
Event Details
Date
8 August 10:30-12:00 (MYT), 11:30-13:00 (JST)
Venue
Room Anjung Singgahsana, Menara DBKL, 1, Jln Raja Laut, Kuala Lumpur City
Co-Organisers
Universiti Teknologi, Malaysia (UTM)
In Partnership with
Bureau of Environment, Tokyo Metropolitan Government
Sustainable Energy Development Agency (SEDA)
The Japanese Chamber of Trade & Industry, Malaysia (JACTIM)
Supported by
Embassy of Japan in Malaysia
Languages
Japanese / English
(Simultaneous interpretation)
Programme
10:30-10:45
Opening remarks
Datuk Seri Mahadi Che Ngah, Mayor of Kuala Lumpur City
Welcome remarks
Mr. Hiroshi Ono, Vice Minister for Global Environmental Affairs of MOEJ (online)
Mr. Katsuhiko Takahashi, Ambassador of Japan to Malaysia, Embassy of Japan in Malaysia (online)
Mr. Shoichi Kurioka, Director General, Bureau of Environment, Tokyo Metropolitan Government (video statement)
Mr. Hayato Shimizu, Mayor of Saitama City Hall (video statement)
Professor Dr Mohd Hamdan Ahmad, Deputy Vice Chancellor (Development), Universiti Teknologi Malaysia (video statement)
Prof Kazuhiko Takeuchi, President of IGES (online)
Group Photo
10:50-11:40
Local actions towards carbon neutral
"Project overview of this city-to-city collaboration"
Prof Ho Chin Siong, Director of Low Carbon Asia Centre, UTM
PDF (3.2MB)
TPr. Chau Loon Wai, Senior Lecturer, Co-Director, UTM-Low Carbon Asia Research Centre
Dr. Junichi Fujino, Programme Director, Integrated Sustainability Centre, IGES
PDF (2.2MB)
Dr. Ryoko Nakano, Research Manager, City Taskforce, IGES
"Kuala Lumpur towards a Carbon Neutral City by 2050"
Mr. Nik Mohammed Faizal Bin Nik Ali, Chief Assistant Director (Architect) Project Implementation & Building Maintenance Department, Kuala Lumpur City
PDF (3.9MB)
"Tokyo Initiatives for achieving carbon neutral - Fast forward to "Carbon Half" by 2030"
Ms. Toshiko Chiba, Climate Change Policy Specialist and Director, Climate Change and Energy Division, Bureau of Environment, Tokyo Metropolitan Government (online)
Mr. Yasuo Furusawa, Chief Specialist for Circular Economy Policies, Sustainable Materials Management Division, Tokyo Metropolitan Government (online)
PDF (772KB)
"Saitama initiatives for achieving carbon neutral – A smart home community connected by a micro-grid"
Mr. Osamu Kanda, Supervisor, Department of Futuristic City Promotion, Urban Strategy Division, Saitama City
PDF (1.4MB)
11:40-11:55
Comments from Experts
Mr. Kazuya Kitae, Chief Coordination Officer, the Japanese Chamber of Trade & Industry, Malaysia
Takumi Niino, Senior Staff Member for International Relations Team, Bureau of Environment, Tokyo Metropolitan Government
11:55-12:00
Closing remarks
Prof Ho Chin Siong, Director of Low Carbon Asia Centre, UTM
Dr. Junichi Fujino, Programme Director, Integrated Sustainability Centre, IGES