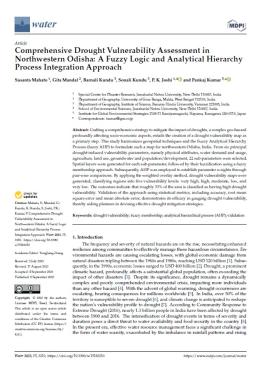 Crafting a comprehensive strategy to mitigate the impact of droughts, a complex geo-hazard
profoundly affecting socio-economic aspects, entails the creation of a drought vulnerability map as
a primary step. This study harmonizes geospatial techniques and the Fuzzy Analytical Hierarchy
Process (fuzzy AHP) to formulate such a map for northwestern Odisha, India. From six principal
drought-induced vulnerability parameters, namely physical attributes, water demand and usage,
agriculture, land use, groundwater and population/development, 22 sub-parameters were selected.
Spatial layers were generated for each sub-parameter, followed by their fuzzification using a fuzzy
membership approach. Subsequently, AHP was employed to establish parameter weights through
pair-wise comparisons. By applying the weighted overlay method, drought vulnerability maps were
generated, classifying regions into five vulnerability levels: very high, high, moderate, low, and
very low. The outcomes indicate that roughly 33% of the area is classified as having high drought
vulnerability. Validation of the approach using statistical metrics, including accuracy, root mean
square error and mean absolute error, demonstrates its efficacy in gauging drought vulnerability,
thereby aiding planners in devising effective drought mitigation strategies.