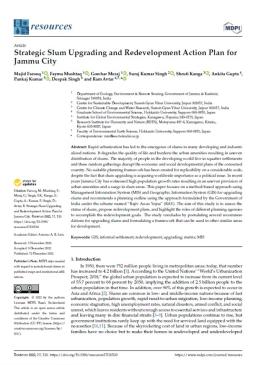 Rapid urbanization has led to the emergence of slums in many developing and industrialized
nations. It degrades the quality of life and burdens the urban amenities resulting in uneven
distribution of slums. The majority of people in the developing world live in squatter settlements
and these random gatherings disrupt the economic and social developmental plans of the concerned
country. No suitable planning framework has been created for replicability on a considerable scale,
despite the fact that slum upgrading is acquiring worldwide importance as a political issue. In recent
years Jammu City has witnessed high population growth rates resulting in an uneven provision of
urban amenities and a surge in slum areas. This paper focuses on a method-based approach using
Management Information System (MIS) and Geographic Information System (GIS) for upgrading
slums and recommends a planning outline using the approach formulated by the Government of
India under the scheme named "Rajiv Awas Yojna" (RAY). The aim of this study is to assess the
status of slums, propose redevelopment plans, and highlight the roles of different planning agencies
to accomplish the redevelopment goals. The study concludes by postulating several recommendations
for upgrading slums and formulating a framework that can be used in other similar areas
for development.