In Energy for Sustainable Development
Volume (Issue): In Press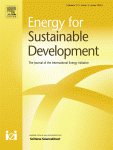 This paper measures the company's awareness and acceptability of market-based instruments (MBIs) for energy saving, and identifies their relationships with pre-classified determinants. The data were collected from 170 respondents mainly from iron & steel, cement and chemical sectors in China. The surveyed companies indicate moderate awareness but good acceptability of MBIs in overall. In contrast to the regulative polices,
MBIs and voluntary approaches are more appreciated by the samples. There exist significant and positive relationships between a company's size and its awareness and acceptability of MBIs. This analysis suggests that a company's policy acceptability would be largely determined by the company's perceived policy influences on its comparative competition. The companies would make internal efforts to offset energy cost increases
due to the possible introduction of economic pressure policies while being reluctant to simply transfer the policy burden to their clients. Empirical evidences on the conditions for the success of MBIs from this study are meaningful for supporting the future progress of industrial energy saving policies in China.
In Energy for Sustainable Development
Volume (Issue): In Press