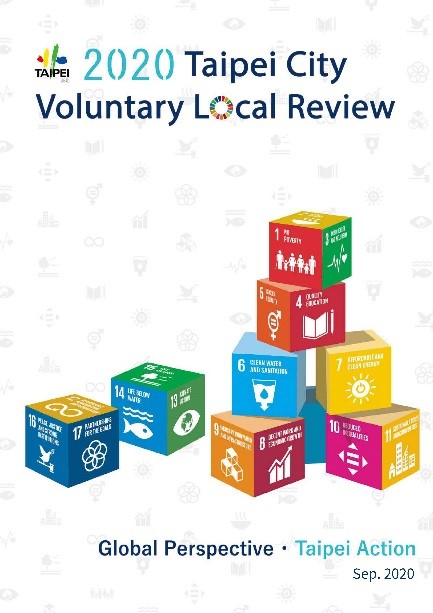 Taipei City
2020 Taipei City Voluntary Local Review
Insights of the Report
Among the 17 SDGs announced by the United Nations, Taipei City has given priority to 11 of them and made significant progress in projects including community medical care, diverse learning resources, gender equality, affordable energy, sustainable cities, and climate action. Our actions included proposing a community integrated care service plan, creating major plans on "three-plus-two" pre-school education, establishing measures on domestic violence and sexual assault prevention and advocacy, transforming a landfill site into an eco-friendly park called "Taipei Energy Hill," implementing the Clean Air Action Plan, and carrying out policies such as Sponge City and Garden City. Taipei City has taken practical actions to improve urban resilience in response to climate change.
In addition, Taipei City has highlighted the linkage between preventive measures against COVID-19 and sustainable development.
Taipei City is making every effort to fulfill its goal of a livable and sustainable city, turning that vision into a reality, as well as continually strengthening international relationships across global communities.
The second edition of Taipei City's VLR reflects on the effects of the COVID-19 pandemic on the SDGs. It also reviews the progress towards achieving the city's 11 priority goals, highlighting initiatives that can inspire other cities to take concrete actions on the SDGs.
Population
2,645,041 (2019)
Area
271.7997 ㎢ (2019)
Population Density
9,732 per ㎢ (2019)
Level of Government
City
Carbon Emission
11,595,543ton (2019)
Carbon Footprint per capita
4.38 ton (2019)
Carbon Absorption
163,285 ton (2019)
Territorial Classification
Budget Size
N/A
City Profile
Taipei City is situated in the northern part of the island of Taiwan. The city actively engages in addressing environmental issues by continuously promoting the reduction of GHG emissions and jointly collaborating with the global community in its shared responsibility to combat climate change. Taipei City places great value on adopting eco-friendly green energy, promoting carbon reduction and enhancing resilience, as outlined in our core values. Moreover, Taipei City strives to pursue sustainable development towards achieving its vision of a livable and sustainable city.
The Report and more
The VLR report is available here:
2020 Taipei City Voluntary Local Review
2019 Taipei City Voluntary Local Review