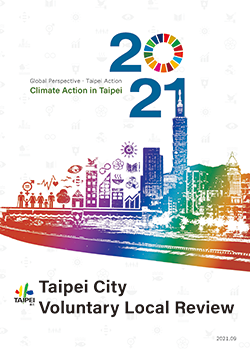 Taipei City
2021 Taipei City Voluntary Local Review
Insights of the Report
Taipei City examined how the SDGs and their targets are correlated with SDG 13 (climate action), dividing the outcomes into three aspects - environmental, economic, and social. Taipei's efforts show what the City has achieved in its long-term promotion of climate actions, and as a result, allowing climate actions to occupy a spot on the City Government's policy agenda, rather than merely vision for the future. Post-2030, the City plans to continue promoting measures to reduce greenhouse gas emissions, including the development of renewable energy and e-mobility, the introduction of smart zero-carbon buildings, and the construction of a green innovation industrial environment, in order to achieve the goal of net-zero emissions by 2050.
Population
2,602,418 (2020)
Area
271.8 ㎢ (2020)
Population Density
9,575 per ㎢ (2020)
Level of Government
Local (ex. city, town, village, etc)
Carbon Emission
11,387,940 ton (2020)
Carbon Footprint per capita
4.3 ton (2020)
Carbon Absorption
240,344 ton (2020)
Territorial Classification
Local (ex. city, town, village, etc)
Budget Size
N/A
City Profile
Taipei City, situated in the northern part of the island of Taiwan, actively engages in addressing environmental issues by continuously promoting reduction of GHG emissions and jointly collaborating with international organisations in our shared responsibility of combating climate change. Taipei City reviews its various climate actions toward achieving its emission reduction targets, which include measures related to energy-saving and carbon emission reduction, resource recycling and use, clean air, and urban greening. Setting 2030 as a projected milestone, the City will accelerate urban transformation to pursue the vision of net-zero emissions by 2050 along with the rest of the world.
VLR Website
https://english.dep.gov.taipei/Default.aspx
The Report and more
The VLR report is available here:
2021 Taipei City Voluntary Local Review
2020 Taipei City Voluntary Local Review
2019 Taipei City Voluntary Local Review