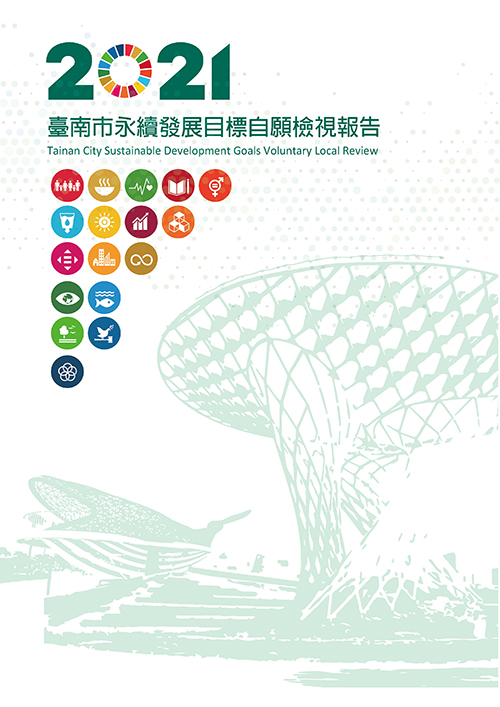 Tainan City
2021 Tainan City Sustainable Development Goals Voluntary Local Reviews
Insights of the Report
Tainan City adopted "3 Improvements, 3 Sustainabilities" as the principles of its administrative policy, which consists of economic growth, transportation improvement, health improvement, sustainable environment, sustainable care, sustainable culture, and education. Combined with the city's 2021 administrative plan, policies on greenhouse gas control, climate change adaptation, healthy city indicators and climate emergency declaration are in line with the United Nations' Sustainable Development Goals (SDGs) framework. Based on the 17 SDGs and in consideration of Tainan's development status, 10 goals will be prioritised in the 2021 inventory. Tainan City's Voluntary Local Review (VLR) will be presented to regularly review the implementation progress of the 2030 SDGs, focusing on SDGs 3, 4, 6, 7, 8, 9, 11, 12, 13, and 17.
Population
1,851,483 (May. 2022)
Area
2,191.65 ㎢
Population Density
519 inhabitants per ㎢
Level of Government
Sub-National (ex. prefectural, state, etc)
Carbon Emissions
2,249 t-CO2 (2020)
Carbon Absorption
34 t (2020)
City Profile
Tainan City is located in the southwest part of Taiwan, in the centre of the wide Chianan Plains. The former capital of Taiwan, the city was established almost four hundred years and has a rich history and culture. Tainan is the oldest city in Taiwan, and its charm lies in a culture formed more than 400 years ago. The city gates, historic sites, traditional buildings and delicious food from the surrounding areas all play an important role in the culture of this ancient capital, with local art, industry and tourism culture all growing together. In response to the central government's 2050 net-zero greenhouse gas emissions target, Tainan City has been formulating relevant strategies and goals since 2021.
The Report and more
The VLR report is available here:
2021 Tainan City Sustainable Development Goals Voluntary Local Reviews