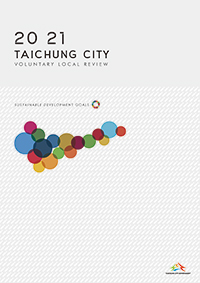 Taichung City
2021 Taichung City Voluntary Local Review
Insights of the Report
Taichung City aims for 17 SDGs and three phases – environmental protection, social progress, and economic growth – as the educational rules for sustainable development for the year 2030. The city has et out three main goals: "Amiable, livable, and communal society", "Build the circular flow of economy steadily" and "Transformative energy and zero-carbon environment." Furthermore, "Sustainable Happiness, Rich City" has been set as the vision for Taichung City, actively making improvements through five aspects, namely "finance, infrastructure", "economy", "environment", and "social welfare". The city has signed an urgent declaration for coping with climate change, developing sustainable energy and promoting recycling and transformation of resources so that it can alleviate environmental pollution and reduce carbon emissions. To accelerate urban transformation as the goal for 2030, Taichung City will be built as a happy, sustainable city to link with international communities.
Population
2,818,139 people (August.2021)
Area
2,215 ㎢ (2021)
Population Density
1,271.57 per ㎢ (August.2021)
Level of Government
Local (city, town, village, etc)
Carbon Emission
33,323,119.882 t-CO2 (2019)
Carbon Absorption
724,167.7700 t (2019)
City Profile
Taichung City covers a wide area of 2,215 square kilometers. Topographically, the east side of Taichung is higher than the west, and occupies 6.2% of the total area in Taiwan. The population of Taichung City was estimated at 2,648,419 people as of August 2021. As of 25 December 2010. Taichung is the second largest city in Taiwan. Taichung City is situated at the hub of South-East Asia, owning to Taichung Harbor and Taichung International Airport, taking advantage of both sea and sky. Taichung has routes to South East Asia, Japan, Korea, and the coastal cities of China, all accessible within four hours. Furthermore, Taichung City is also in a convenient location as the hub of Taiwan High Speed Rail and the transportation system in Taiwan. Taichung City is an important production base of tools such as mechanical, aerospace, hand tools, machine tools, photoelectric panels, as well as the domestic bicycle industry. Through upgrading and transforming its industries, it takes the lead in purchasing, and promoting industrial development related with production and components. The city government collaborates with the central government to build a smart city in terms of, machines, and mechanical industry. Taichung City also promotes offshore wind power, with Taichung Harbor serving as an important base for wind power. It has built a complete wind power industry supply chain and has forged ahead with green industry development. There are also exemplary industry chain structures, such as the Central Science Industrial Park and the Processing Export Zone in Taichung, and together they form the "Industrial Corridor of Taichung". Taichung Harbor and Taichung International Airport are advantageous and are able to connect with global cities.
The Report and more
The VLR report is available here:
2021 Taichung City Voluntary Local Review