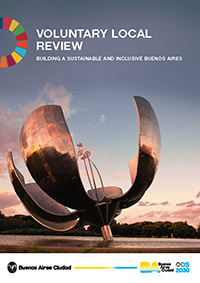 Buenos Aires City Government
Voluntary Local Review: Building a sustainable and inclusive Buenos Aires
Insights of the Report
This report presents the work done by Buenos Aires City on six specific SDGs: 4, 5, 8, 10, 13 and 16. It highlights those actions that help to build our City vision, to ensure inclusion and equality, and to show progress in the general adaptation of the 2030 Agenda. Through the common language of sustainable development, these documents are an essential tool to share and nurture from other experiences, unify metrics and know what plans and policies are giving better results in different parts of the world.
Issued: July 2019
Population
2,089,000 (2010)
Population Density
15.014 per ㎢ (2015)
Level of Government
Local (ex. city, town, village, etc)
Carbon Footprint per capita
N/A
Territorial Classification
City Profile
The Autonomous City of Buenos Aires (CABA, for its acronym in Spanish) is the capital of the Republic of Argentina, and the largest urban area in the country, the second of Latin America and one of the 20 largest cities of the world.
It is one of the main touristic and cultural centers of the country and was chosen as the best tourist destination in Latin America. It presents a remarkably eclectic urban profile, highlighted by its cultural offer and pluralism and its nightlife. The gastronomic, cultural and architectural identity of the City is nourished by foreign influences. Buenos Aires hosted and does host internal and external migrants: 38% of its residents were not born in the City.
There are currently 3 million inhabitants in Buenos Aires City distributed in 15 communes, but there are approximately twice as many people who daily commute from the Metropolitan Area to the city. Women are the majority in the City: 114 women for every 100 men. Additionally, inhabitants of 65 years of age and more, have the same weight than those under 15 years of age in the total population.
According to the Global Liveability Ranking, Buenos Aires is among the cities with the highest quality of life and the most livable in Latin America. It is the healthiest city in the region and the tenth in the world3. Likewise, it has more than 100 green areas and it can be toured with the bikeways system. It is also the most sportive city in Latin America. Its income per capita is one of the three highest in the region. In 2017, its Gross Geographic Product (GGP) exceeded 117 million dollars, which accounts for one-quarter of Argentina's total Product. The main economic activities that contribute to the GGP are developed in the service sector, particularly in communications and transport, financial and business.
At a political-administrative level, the City is is autonomous since 1994, its government is elected by popular vote and constitutes one of the 24 provinces of the country. It has its own branches of government (Executive, Legislative and the Judiciary), in addition to its own police force since 2016. Horacio Rodríguez Larreta is the current Chief of Government and Diego Santilli is the Deputy Chief of Government.
The Report and more
The VLR report is available here:
Voluntary Local Review: Building a sustainable and inclusive Buenos Aires