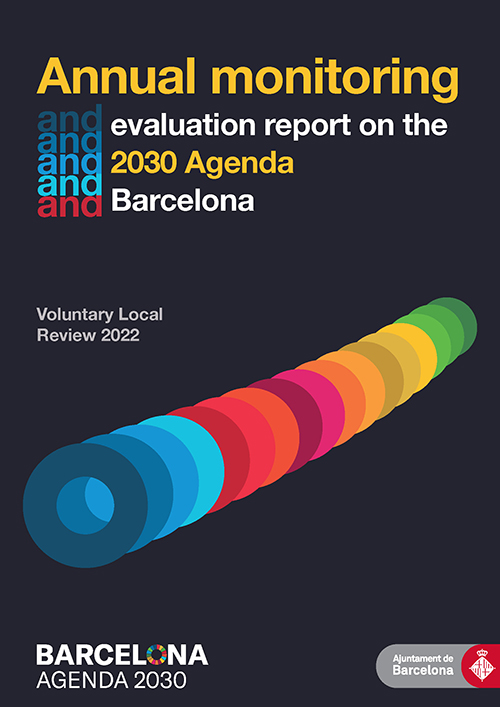 Barcelona City
Annual monitoring and evaluation report on the Barcelona 2030 Agenda
Insights of the Report
This first VLR presents a localisation proposal, based on SDG targets and key indicators. The report chapters are organised based on the 17 SDGs, and for each one, the first part shows:

1. The UN list of SDG targets that are considered to be 'localisable' in Barcelona.
2. A list of municipal strategies and plans that have been identified through consultation as possible targets and indicators.

Shown below is every localisable SDG target, to the extent it has been possible to identify them:
Proposed SDG target for Barcelona.
Operational definition of the target, which specifies its meaning in order to make it measurable and assessable.
Proposed key indicator or indicators for measuring the target. The following information is provided for each indicator:
Origin of the indicator.
Data source or sources for the proposed indicators.
Reference values for the indicator.
Desired value for 2030.
Analysis perspectives.
Population
1.666.530 (Jan. 2020)
Area
101 ㎢
Population Density
16,443 per ㎢ (Jan. 2020)
Level of Government
Local (city, town, village, etc)
Carbon Emission

Carbon Footprint per capita

Carbon Absorption

Territorial Classification
Local (ex. city, town, village, etc)
Budget Size

City Profile
Barcelona, capital of Catalonia, is an ancient Mediterranean city. The Romans erected a high wall, which was extended in medieval times when Barcelona expanded its political and commercial influence. The wall was demolished in the mid-19th century, allowing the city to grow and acquire a new face, characterised by modernist buildings. Barcelona has become a communication and IT hub, serving as the core for the metropolitan area with its population of six million inhabitants, and renowned for its deep-rooted industrial activity. Following the Olympic Games of 1992, Barcelona also became a leading city for tourism. In January 2020 the municipal government approved and presented a strategy for promoting and implementing the 2030 Agenda in Barcelona. However, COVID19 has had a severe impact on the city, and its political, economic and social actors are currently struggling to set out a sustainable urban development model.
The Report and more
The VLR report is available here:
Annual monitoring and evaluation report on the Barcelona 2030 Agenda - 2022 (English version) / (Spanish version) / (Catalan version)
Annual monitoring and evaluation report on the Barcelona 2030 Agenda
Barcelona's 2030 Agenda. SDG targets and key indicators