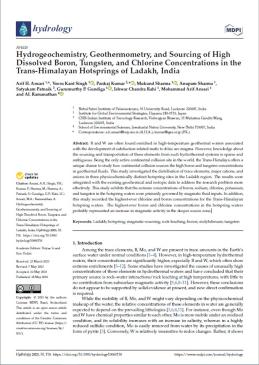 B and W are often found enriched in high-temperature geothermal waters associated
with the development of subduction-related mafic to felsic arc magma. However, knowledge about
the sourcing and transportation of these elements from such hydrothermal systems is sparse and
ambiguous. Being the only active continental collision site in the world, the Trans-Himalaya offers a
unique chance to study how continental collision sources the high boron and tungsten concentrations
in geothermal fluids. This study investigated the distribution of trace elements, major cations, and
anions in three physicochemically distinct hotspring sites in the Ladakh region. The results were
integrated with the existing geochemical and isotopic data to address the research problem more
effectively. This study exhibits that the extreme concentrations of boron, sodium, chlorine, potassium,
and tungsten in the hotspring waters were primarily governed by magmatic fluid inputs. In addition,
this study recorded the highest-ever chlorine and boron concentrations for the Trans-Himalayan
hotspring waters. The highest-ever boron and chlorine concentrations in the hotspring waters
probably represented an increase in magmatic activity in the deeper source zone.