In Journal of Global Health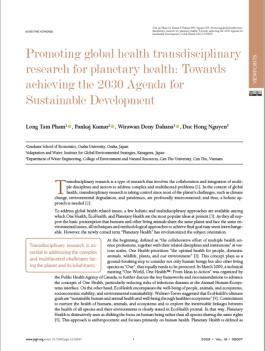 Transdisciplinary research is essential in addressing the complex and multifaceted challenges facing the planet and its inhabitants. For us, the issue is not which of the three holistic approaches – One Health, EcoHealth, or Planetary Health – is more applicable to sustainable development. Instead, the debate is whether the ideas and associated frameworks of One, Eco and Planetary Health should stand as autonomous solutions to the complex nature of global health, as defined by the 2030 agenda for sustainable development, or if it is better to aspire for a growing literature confluence and a broader and stronger commitment to interdisciplinary and transdisciplinary activities around the SDGs. By bringing together experts from multiple disciplines and sectors, transdisciplinary research allows a more comprehensive and holistic approach to understand these challenges, resulting in optimal effective and sustainable solutions. As such, transdisciplinary
research will continue to be a vital component of efforts to promote global health and address the many challenges facing our planet. Planetary health a very new and emerging approach has the potential to address these complex issues in more holistic way.
In Journal of Global Health