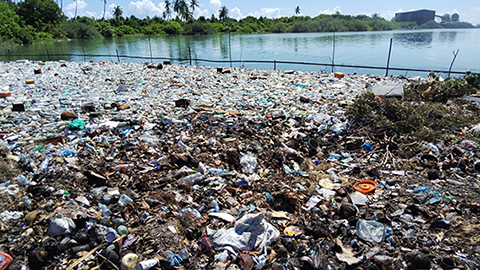 Starting in April 2020, IGES began its support for "Closing the Loop", a project co-led by the United Nations Economic and Social Commission for Asia and the Pacific (ESCAP) and the Japanese government. As a partner agency of ESCAP, IGES is dedicated to preventing and reducing marine plastic pollution in Vietnam, Indonesia, Malaysia, and Thailand. Its contribution to this project will continue until March of next year. 
Plastic is an integral part of our lives and the global economy. Its production has grown dramatically from 15 million tons in 1964 to 359 million tons in 2018, and the volume is expected to double again in the next 20 years. Moreover, more than 80% of the plastics produced in the world since 1950 have become trash, and 80% of this is discarded into the natural environment. Pollution is an especially serious concern in Southeast Asia, a region which is known as one of the leading sources of land-based plastic waste that leaks into the ocean.
This project consists of the following two activities: 
Develop an innovative digital mapping tool, together with the baseline assessment, related to waste quantity and composition, and waste management capacity, to help local governments visualize and monitor plastic waste leakage. In addition, it will map waste generation hot spots, with a view to targeting actions to improve their management; and
Employ the digital tool in the cities (across a coastal basin or watershed area) to develop targeted action plans, policies, and investment strategies to address plastic waste leakage.
IGES will analyze plastic waste flows based on digital maps and a field survey of the target countries, and develop a practical action plan that includes 3R promotion to improve plastic waste management with local governments.