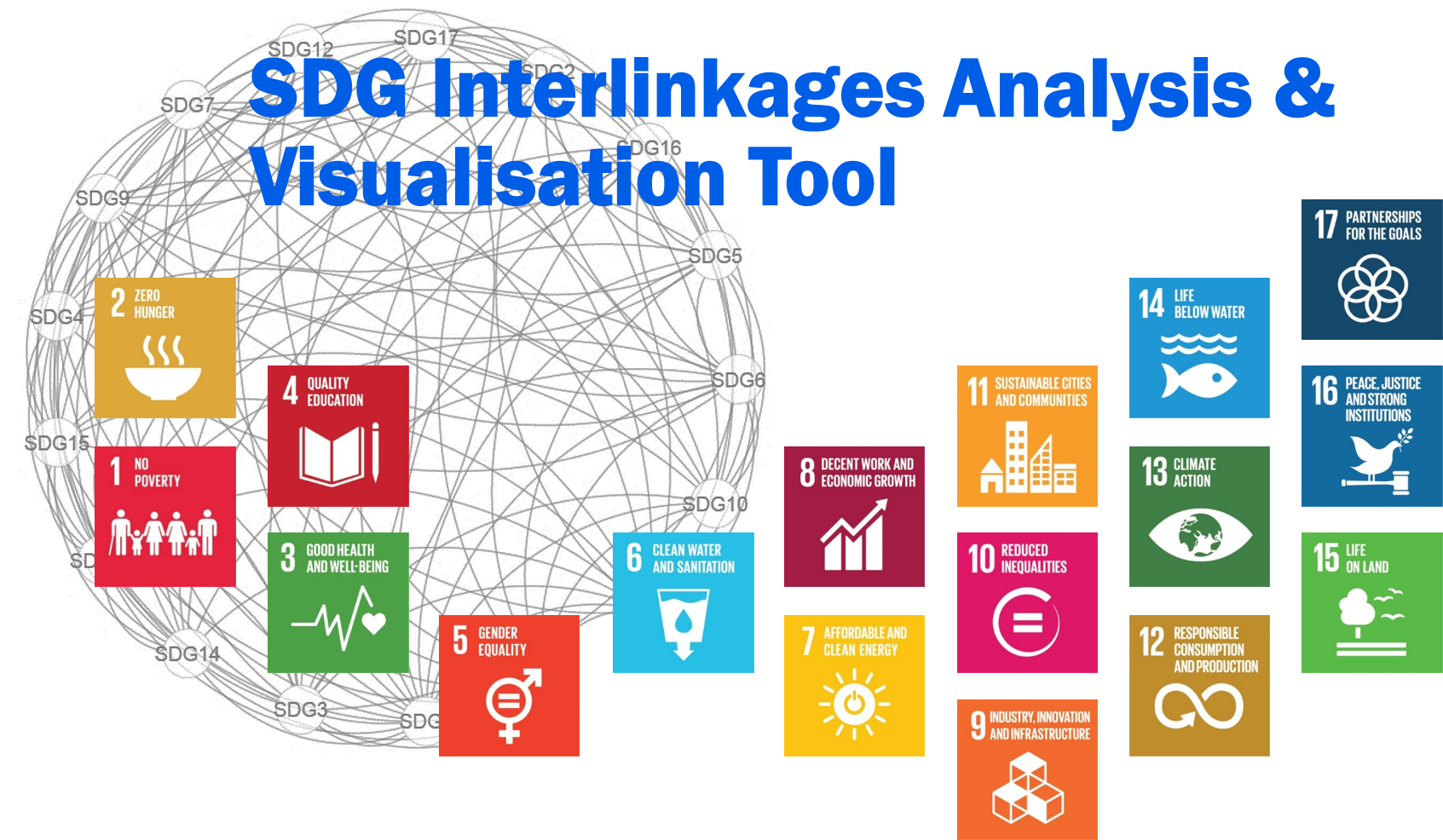 An updated and upgraded version of the IGES SDG Interlinkages Analysis & Visualisation Tool (V2.0) is now available online for free for anybody with access to the internet. This is a practical and science-based tool that can support national policymaking, shifting from a silo-based approach to an integrated approach in implementing the Sustainable Development Goals (SDGs). The new version of the tool offers updated data, enhanced interface and some new features.
As the 17 SDGs and their targets cover a wide range of separate and diverse elements that interact and complement each other in an indivisible way, they make a complex network of interlinkages. SDGs implementation therefore calls for an integrated approach to seek and scale up the synergies and minimise the trade-offs for cross-sectoral integration and institutional collaboration. SDG integration has been highly recognised throughout the negotiation process of SDGs formation as well as in the planning and reporting processes. Understanding the interlinkages within and between SDGs is important for SDG integration to address critical issues such as how and to what extent achieving one target may impact other targets, the areas of synergies and trade-offs, and how countries differ in terms of SDG interlinkages. The IGES SDG Interlinkages Analysis & Visualisation Tool (V2.0):
Allows the users to visualise the interlinkages between SDG targets;
Helps identify areas of potential synergies and trade-offs between SDG targets;
Provides indicator-level time-series data for selected countries in Asia; and
Enables comparison of country progress and performance over time.
The IGES tool enables a quantitative analysis of the SDG interlinkages, which can be applied for various purposes including SDG planning and priority-setting, making institutional arrangements, allocating resources efficiently, and monitoring the progress of the SDGs.
For SDG planning, the IGES tool can help set priorities based on the strategic targets identified in the network of SDG interlinkages and provide a checklist for conducting strategic environmental assessment or sustainability assessment of national development plans and strategies to ensure that the trade-offs are fully taken into account.
For institutional arrangements, the IGES tool can help recommend effective institutional arrangements including which organisation should take the lead and which other organisations should be included as key partners for implementing specific Goals based on SDG interlinkages.
For financial arrangements, the IGES tool can help allocate governmental budget in an efficient way by jointly addressing the areas with strong synergies. This is particularly important for developing countries as it helps to reduce overlapping efforts and allocate limited financial resources more efficiently.
For monitoring and reporting, the IGES tool together with other statistical methods can help generate a set of headline indicators which substantially reduces the number of indicators while keeping a good representation of the information covered by a larger set of indicators. This will help to address the challenges of insufficient statistical capacity and trackable data for effective monitoring particularly in developing countries.
Necessary documentation for the whole project, including the methodologies, reference materials and publications is available from the website that hosts the SDG Interlinkages Analysis & Visualisation Tool (V2.0).
Related publication
While being broadly framed as 17 separate and diverse elements, Sustainable Development Goals (SDGs) and associated targets inherently interlink with one another making up indivisible parts of sustainability from a systemic perspective. Actions or measures taken for achieving one goal may be mutually reinforcing or contradictory with achieving...