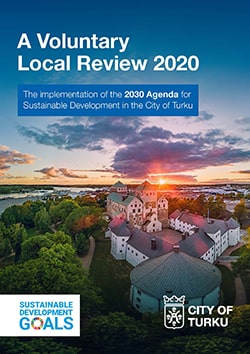 City of Turku
A Voluntary Local Review 2020,
The implementation of the 2030 Agenda for Sustainable Development in the City of Turku
Insights of the Report
Following its longstanding commitment to sustainable development, the City of Turku has conducted a review of the Sustainable Development Goals. The city aspires to grow in a socially, economically, and ecologically-sound manner to increase the well-being of its residents. The city has also pledged to be carbon neutral by 2029. The VLR report examines the city's main strategies on the SDGs; it reviews the 17 SDGs but pays special attention to Goals 6, 10, 13, and 17. Through this report, the city hopes to share its good practices with the global community.
Issued: July 2020
Level of Government
Local (ex. city, town, village, etc)
Carbon Footprint per capita
N/A
Territorial Classification
City Profile
Founded in 1229, Turku is the oldest city in Finland, its third largest urban area, and sixth largest municipality. Located in the southwest of the country, on the estuary of the Aura river, and facing the Archipelago National Park, the city is a vibrant cultural hub in the Baltic Sea Region with a diverse and dynamic economy.
The Report and more
The VLR report is available here:
A Voluntary Local Review 2020, The implementation of the 2030 Agenda for Sustainable Development in the City of Turku