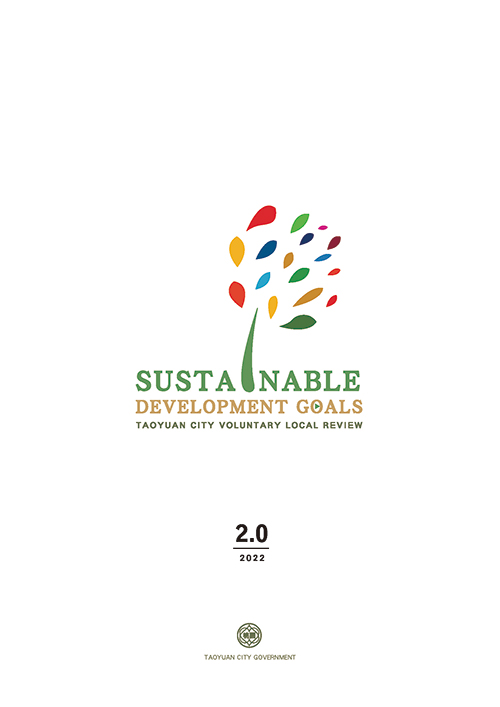 Taoyuan City
Taoyuan City Voluntary Local Review 2.0
Insights of the Report
Taoyuan has adopted SDGs into its municipal framework to comprehensively review its policies with the Taoyuan City Voluntary Local Review 1.0 in 2020. In 2021, Taoyuan City Government Sustainable Development Committee was established for to ensure continuous review and revision of policies and evaluation indicators, through meetings with various working groups. Taoyuan City VLR 2.0 was published in 2022 as the comprehensive metric for proceeded promotion of sustainable development. Taoyuan City VLR 2.0 features a policy review divided into three parts. The first part contains qualitative interviews and disclosures to 13 stakeholders under the 10 highlight topics to review the governance achievements of the sustainable development policy; Part 2 is an inventory of plans carried out by the Taoyuan City Government Sustainable Development Committee to examine the degree of compliance of 292 policy plans with sustainable development; the final part is the presentation of quantitative indicators, with 59 evaluation indicators to confirm the progress of governance.
Population
2,270,000 inhabitants (2022)
Area
1,220 ㎢ (Dec. 2020)
Population Density
1,860 inhabitants per ㎢ (2022)
Level of Government
Local (city, town, village, etc)
Carbon Emission
29,296,900 t-CO2 (2020)
Carbon Footprint per capita
13.06
Carbon Absorption
322,673.6 t (2020)
Territorial Classification
Budget Size
TWD 127.6 billion/USD 4.08 billion (FY2022)
City Profile
Located in northwestern Taiwan, Taoyuan City is one of Taiwan's Six Special Municipalities, Municipality of National Gateway, and a hub connecting to the rest of the world. Taoyuan is known for its pleasant weather year-round, its mutual prosperity due to diverse demographics, and the balanced development of various industries. Taoyuan City has developed rapidly since its promotion to special municipality and is the leading city in Taiwan in terms of population increase and fertility rate. Sustainability has become a global priority, and as such, Taoyuan has continued to make progress on environmental protection, social equity and economic growth in the midst of rapid population growth and economic development.
Taoyuan carries out the promotion of SDGs as a duty, implementing the Sustainable Development Goals in all aspects, and building a resilient city. The SDGs are rooted in sustainability awareness kfor all global citizens. Going forward, Taoyuan will continue to work with public/private partners and citizens from all walks of life to boost sustainable governance by the city, aiming to achieve friendliness for the common good, and become a city where all citizens can thrive in their daily lives and work environments.
Taoyuan City VLR 2.0 and the Taoyuan Sustainable Development Video "Sustainable Taoyuan · Wish for the Happiness Future" have been set up on the "Taoyuan X SDGs" Website.
The Report and more
The VLR report is available here:

Taoyuan City Voluntary Local Review 2.0
Taoyuan City Voluntary Local Review.