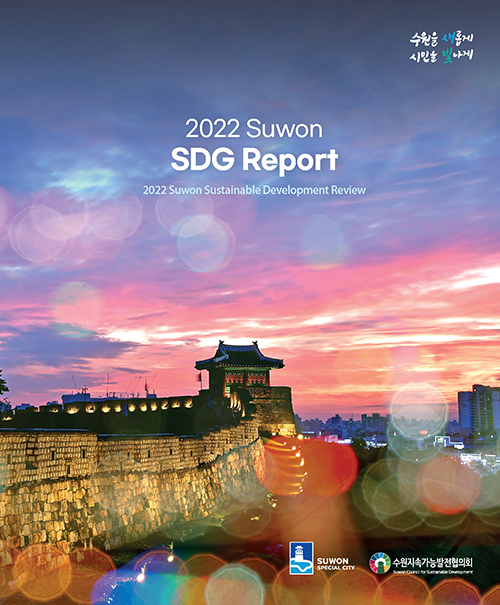 Suwon City
Suwon SDGs Action Report
Insights of the Report
This Suwon SDG Report 2022 is written based on the performance in 2020, the year when COVID-19 broke out. Despite the effects of the global pandemic, Suwon's sustainability in environmental or social dimensions was not significantly hindered, while the economic dimension was an exception. In the midst of the global crisis, Suwon City and the Republic of Korea fully demonstrated their capabilities to realise sustainable development, and such achievement would have been impossible without the efforts of civic society and citizenship. The sustainable development of Suwon City will continue to be led by citizens, making Suwon a leading city in sustainable development in Korea and beyond.
Population
1,195,718 (Sep. 2023)
Area
121.10 ㎢ (Aug. 2023)
Population Density
9,873.80 per ㎢
Level of Government
Local (ex. city, town, village, etc)
Budget Size
KRW 3,072 million / USD 2.33 million
City Profile
Located in the south-central part of Gyeonggi-do, Suwon has the highest population among municipalities of the Republic of Korea. As a central city of Gyeonggi-do, Suwon is where the Gyeonggi Provincial Office is located and plays a leading role in the areas of administration, economy, politics, education, culture and sports. The name, Suwon, originated from Suwon Dohobu, a horse ranch, built in the 13th year (1413) of the reign of Joseon Dynasty king, Taejong. The city's status was elevated from Suwon-eup (town) to Suwon-si (city) in 1949. Suwon was designated as a special case city with a population greater than 1 million in 2022. Suwon is a densely populated city with 1,221,913 inhabitants over a total area of 121.09㎢, with most of its areas highly urbanised. In terms of its topography, it includes Mt. Gwanggyo (582m) in the northeast section of the city and Mt. Chilbo (239m) in the west, and most of the other areas are flat basin terrain.
The Report and more
The VLR report is available here:
2022 Suwon SDG Report
Suwon SDGs Action Report
Suwon Implementation Report on Goal 11