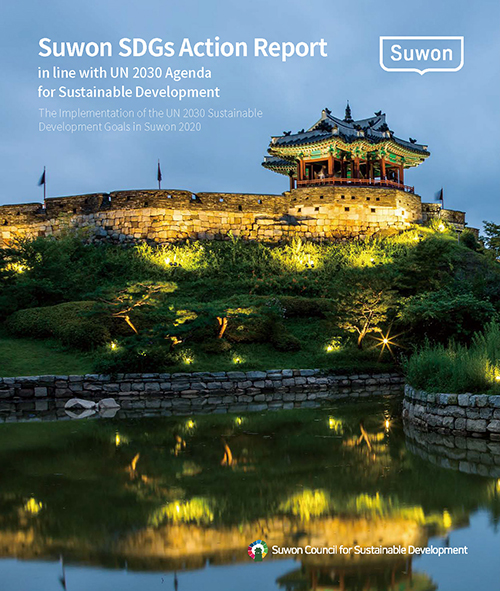 Suwon City
Suwon SDGs Action Report
Insights of the Report
As Suwon City has been pushing forward with various policies for a sustainable city, the city administration and citizens worked together to adopt 10 Sustainable Development Goals for Suwon, considering the 17 SDGs of the UN and Suwon's economic, social and environmental conditions. The 10 Suwon SDGs are as follows. SDG 1: Responding to Climate Change with Good Energy for All; SDG 2: Healthy and Harmonious Biodiversity; SDG 3: City with Transparent and Clean Water Cycle; SDG 4: Healthy and Sustainable Agriculture and Food; SDG 5: Quality Jobs and Industrial Innovation; SDG 6: Sustainable Consumption and Production; SDG 7: Promoting Happiness through Welfare, Health and Education; SDG 8: Gender Equality and Multicultural Society; SDG 9: Sustainable City and Culture for All; and SDG 10: Promoting Justice, Peace and Harmony through Self-governance. Each SDG is comprised of a description about its intention, targets and indicators to facilitate implementation and monitor progress. 'Suwon's Governance and Policy for Sustainable Development' explains major sustainability policies that the city has been pursuing and concludes with a summary of all processes and suggestions for the next step.
Population
1,185,569 (Mar. 2022)
Area
121.03 ㎢ (Mar. 2022)
Population Density
9,790 per ㎢ (Mar. 2022)
Level of Government
Local (ex. city, town, village, etc)
City Profile
Suwon is the largest city in Gyeonggi Province and has the largest population among basic local governments in the country. Unlike cities in other metropolitan areas with strong satellite urban characteristics of Seoul, Suwon forms an independent economic zone and occupies the central location of Gyeonggi Province's administrative and economic centres.
The Report and more
The VLR report is available here:
Suwon SDGs Action Report
Suwon Implementation Report on Goal 11