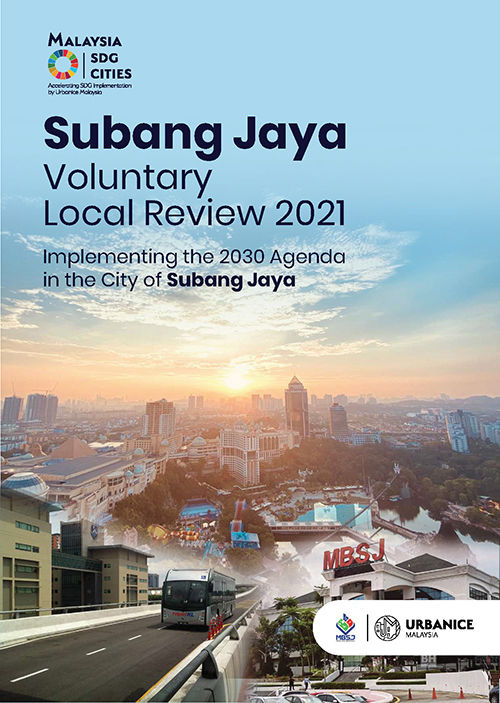 Subang Jaya
Subang Jaya Voluntary Local Review 2021: Implementing the 2030 Agenda in the City of Subang Jaya
Insights of the Report
Subang Jaya, a strong advocate for local sustainable development, has released an action-oriented VLR reaffirming its commitment to address global challenges through local efforts. The VLR also serves as a platform for peer-learning, spotlighting the city's best practices that can inspire other local governments. The VLR report introduces the city and its SDG framework, followed by an overview of the VLR process and the city's policy environment. Particularly, the report emphasises the alignment of Subang Jaya's 2020-2035 City Council Plan's six strategic thrusts with multiple SDGs. For instance, thrust 3, centred on sustainable development, aligns with SDGs 3, 7, 11, 12, 13, 14, 15 and 16. In the evaluation of seven focal SDGs (3, 5, 8, 11, 12, 13 and 16), the report highlights ongoing projects and tracks advancement towards specific targets.
Population
898,830 (2019)
Area
70.41 ㎢
Level of Government
Local (city, town, village, etc)
City Profile
Subang Jaya is a city situated in the state of Selangor, Malaysia. It is positioned in the Klang Valley region, approximately 20 kilometers west of Kuala Lumpur, the capital of Malaysia. With a population of almost 1 million, Subang Jaya is the sixth most populous city in the country.
The city boasts a diverse economy with a strong emphasis on commerce, education, and services. Subang Jaya is also known for its educational institutions and is considered a hub for higher education.
Subang Jaya was established as a planned township in the 1970s. Originally an oil palm estate, it transformed into a rapidly growing city due to its proximity to Kuala Lumpur. Over the years, Subang Jaya has evolved into a dynamic urban centre.
The Report and more
The VLR report is available here:
Subang Jaya Voluntary Local Review 2021: Implementing the 2030 Agenda in the City of Subang Jaya