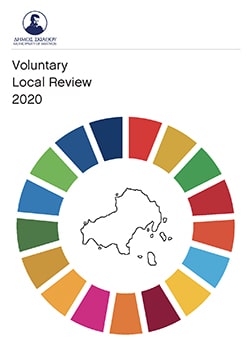 Skiathos
Skiathos Voluntary Local Review 2020
Insights of the Report
The city of Skiathos, a unique tourism destination, is also an example of commitment to the SDGs.
In particular, the SDGs offer a great opportunity for Skiathos to be the first Greek city to attempt to address these problems and challenges, and share its efforts towards achieving the SDGs with others.
In this context, City of Skiathos has developed the "Skiathos 2030" Mission Statement from the 17 UN sustainability goals in a largescale public participation process. It sets out how citizens intend to live in Skiathos in 2030 and in doing so, how they will respond to their global responsibilities.
Population
6,125
Area
49,9 ㎢
Population Density
122,01 per ㎢
Level of Government
Local (city, town, village, etc)
Carbon Emission

Carbon Footprint per capita

Carbon Absorption

Territorial Classification
Local (ex. city, town, village, etc)
Budget Size

City Profile
Skiathos is the westernmost island in the Northern Sporades group, east of the Pelion peninsula in Magnesia on the mainland, west of the island of Skopelos. Skiathos is a small island but it is the most popular of the Greek islands of the Sporades group in the Aegean Sea, attracting thousands of visitors every summer.
The Report and more
The VLR report is available here:
Skiathos Voluntary Local Review 2020