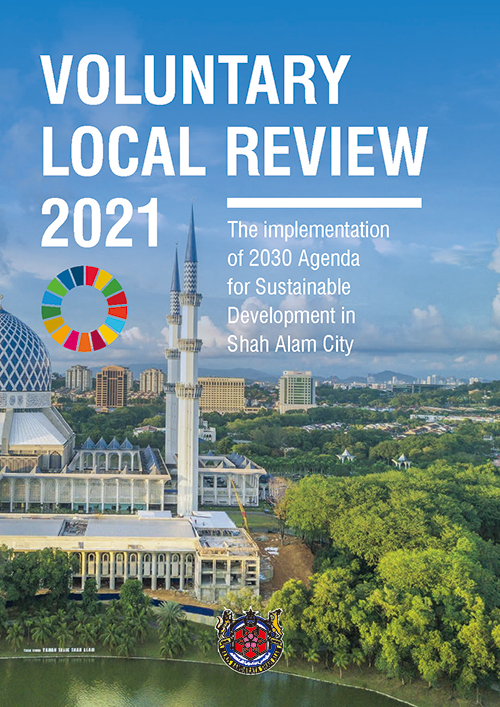 Shah Alam
Voluntary Local Review 2021: The Implementation of 2030 Agenda for Sustainable Development in Shah Alam City
Insights of the Report
Shah Alam, known for its sustainable development policies, released its first Voluntary Local Review (VLR) in 2021 to reaffirm its commitment to localise the 2030 Agenda for Sustainable Development. The VLR focuses on strengthening all dimensions of sustainable development and highlights progress on five prioritised SDGs 1, 11, 12, 13 and 15. The report presents Shah Alam's SDG roadmap and enabling environment. The VLR also emphasises the city's dedication to creating governance networks to accelerate SDG actions, promote transparency, and be accountable to its residents.
Moreover, the VLR showcases Shah Alam's good practices, aiming to encourage peer-learning with other cities. Overall, the VLR serves as a tool to enhance collaboration, identify synergies between strategies, and ensure a sustainable future for the city, leaving no one behind in its pursuit of sustainable development.
Population
740,750 (2017)
Area
290.3 ㎢
Population Density
2,600/㎢ (2017)
Level of Government
Local (city, town, village, etc)
City Profile
Shah Alam City is the state capital of Selangor, Malaysia, situated approximately 25 kilometers west of Kuala Lumpur. With a population exceeding 700,000 people, Shah Alam holds a strategic position within the Klang Valley region, which is the economic heartland of Malaysia, characterised by its high population density and vital commercial activities. Established in 1963, Shah Alam became the new state capital of Selangor in 1978. Its development was meticulously planned to cater to the growing administrative and economic demands of the state. Over the years, it has undergone rapid urbanisation and transformation into a vibrant and modern metropolis.
The Report and more
The VLR report is available here:
Voluntary Local Review 2021: The Implementation of 2030 Agenda for Sustainable Development in Shah Alam City