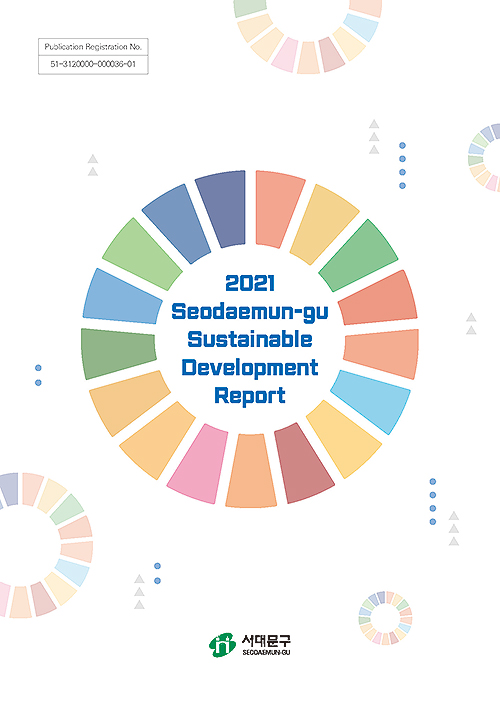 Seodaemun-gu District, Seoul
2021 Seodaemun-gu Sustainable Development Report
Insights of the Report
In the process of developing its VLR, Seodaemun-gu District ran a discussion and communication platform for 11 interested groups including women, children/adolescents, seniors, and those with special needs, and reestablished a framework for sustainable development based on the UN guiding principle of leaving no one behind (LNOB) in the implementation of the Sustainable Development Goals (SDGs). Seodaemun-gu's Sustainable Development Report evaluated 34 sustainable development indicators based on an upward/downward analysis of the annual statistical data on Seodaemun-gu's sustainability evaluation since 2019 in order to identify problems and suggest ways to strengthen the means of implementation of the SDGs. This report will contribute to boosting the growth of Seodaemun-gu for generations to come.
Population
305,793 (Feb. 2022)
Area
17.63 ㎢ (Feb. 2022)
Population Density
Ex. 1,954 per ㎢ (Jan. 2017)
Level of Government
Local (ex. city, town, village, etc)
City Profile
Seodaemun-gu District is a residential area with many green areas, including mountains such as Ansan and Baengryeonsan. It is an important hub of the transportation network linking downtown Seoul with the suburbs. Furthermore, it is a leading district in Seoul in terms of education and culture as well as home to prestigious universities such as Yonsei, Ewha, and Sogang. "A human-centered city" is the motto of Seodaemun-gu, in which the district strives to listen to people's opinions and put their ideas into practice. Seodaemun-gu District established its basic plan for sustainable development in 2019, enacted an ordinance in 2020, and formed a sustainable development team in 2021 to lay the foundation for sustainable development.
The Report and more
The VLR report is available here:
2021 Seodaemun-gu Sustainable Development Report