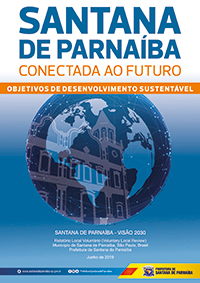 Santana de Parnaíba
Santana de Parnaíba 2030 Vision Connected to the Future
Issued: July 2018
Insights of the Report
Santana de Parnaíba VLR was led by a unique public-private-institutional partnership between the municipal authorities, leading institutions in education for sustainable development (Gaia Education and UNESCO Global Action Programme) and the private sector company Artesano. The high engagement of civil servants, local business and civil society propelled the creation of an SDG Commission by public decree with the task of holding the continuity of the SDGs implementation to 2030. The 'catalyser SDGs' for Santana de Parnaíba are – Peace, Justice and Strong Institutions (SDG 16), Quality Education (SDG 4) and Good Health and Well Being (SDG 3).
Population Density
604,74 hab/㎢
Level of Government
Local (ex. city, town, village, etc)
Carbon Emission
Information not available
Carbon Footprint per capita
Information not available
Carbon Absorption
15,000 trees planted in 2018 65,000 by 2030
Territorial Classification
Predominantly Urban (PRU)
Budget Size
USD 257,984,406.31 (FY2019)
City Profile
Santana de Parnaíba is a city and municipality in the state of São Paulo in Brazil. It is part of the Metropolitan Region of São Paulo. The population is 126,574 (2015 est.) in an area of 179.95 km². It was founded in 1625 near the Tietê River by Susana Dias, an important Bandeirante (Brazilian pioneers) wife. The city can be considered one of the oldest in Brazil, playing an important role in the expansion and territorial delimitation of the country.
Nowadays, the city holds the highest historical patrimony of the colonial era in Brazil, besides being in full development and being a reference in several areas such as education, security and health.
The word Parnaíba means rocky river. The municipality contains and administers the 367 hectares (910 acres) Tamboré Biological Reserve, a strictly protected conservation unit.
The Report and more
The VLR report is available here:
Santana de Parnaíba 2030 Vision Connected to the FuturePDF (7.6MB)