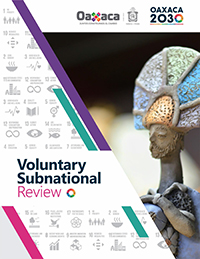 Government of Oaxaca
Voluntary Subnational Report
Insights of the Report
This preliminary version of the Voluntary Subnational Review is a first report on the activities that Oaxaca has carried out in relation to the implementation of the 2030 Agenda, as well as a space for reflection and self-evaluation that identifies the challenges and lessons learned. This document is a qualitative exercise to describe the main activities, at the state and the municipal level, the Government of Oaxaca has been doing for implementing the 2030 Agenda. It is divided in six main topics, besides a brief description of Oaxaca, the methodology for the VSR and the vision to the future. Each section has a brief analysis of the challenges and lessons learned helping to identified the gaps that need a solution and the strengthens that need to be reinforced. The idea is to have this document completed by 2020 and be able to present it during the HLPF week.
Issued: July 2019
Population
4,120,41 (2019)
Population Density
42.3 per ㎢ (2015)
Level of Government
Sub-National (ex. prefectural, state, etc)
Carbon Footprint per capita
N/A
Territorial Classification
City Profile
The state of Oaxaca is located geographically in the southern region of Mexico. Its name comes from the Náhuatl word "Huaxyacac", which means about the nose or tip of the gourds, alluding to this arboreal legume of edible seeds that abounds in the Oaxacan territory. Due to this vast territorial extension, the state is divided into 570 municipalities distributed in 8 geographical regions that share certain geographical and socioeconomic characteristics given the great territorial and social complexity. Since 2018, the Government of Oaxaca established a State Council committed to the 2030 Agenda implementation at the state and municipal level.
The Report and more
The VLR report is available here:
Voluntary Subnational Report