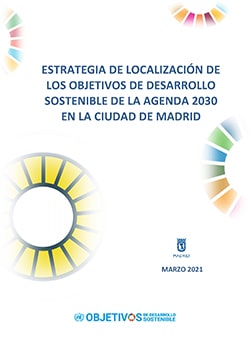 Madrid
Estrategia de Localización de los Objetivos de Desarrollo Sostenible de la Agenda 2030 en la Ciudad de Madrid
Insights of the Report
In its commitment to deliver the promises laid by global agendas to advance sustainable development, the City of Madrid has aligned its municipal strategies with the objectives of the 2030 Agenda for Sustainable Development. Madrid's strategy to localise the SDGs has been developed to meet the needs of the local context through different stakeholder engagement processes. This also encourages policy coherence among different departments. The strategy lays out 24 areas of municipal action, grouped under six overreaching policies. The city has also established 104 local SDG targets and a system of 160 indicators to track progress.
Population
3,334,730 (2020)
Area
604,45 ㎢
Population Density
5265,91 hab per ㎢
Level of Government
Local (city, town, village, etc)
Carbon Emission

Carbon Footprint per capita

Carbon Absorption

Territorial Classification
Local (ex. city, town, village, etc)
Budget Size

City Profile
Madrid is the capital of the Community of Madrid. It is also the capital of Spain, and the country's most populous city. Located in the centre of the Iberian Peninsula, Madrid lies on the River Manzanares. The city is an important economic and cultural centre in the European Union. It is home of the headquarters of the United Nation's World Tourism Organisation (UNWTO), and has many museums (such as the Prado Museum and Reina Sofia Museum). The city's historical centre, known as "the Landscape of Lights," was inscribed as a UNESCO's World Heritage Site in 2021.
The Report and more
The VLR report is available here:
Estrategia de Localización de los Objetivos de Desarrollo Sostenible de la Agenda 2030 en la Ciudad de Madrid