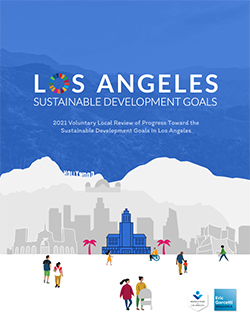 City of Los Angeles
2021 Voluntary Local Review of Progress Toward the Sustainable Development Goals in Los Angeles
Insights of the Report
Los Angeles' 2021 Voluntary Local Review builds on the city's first report in 2019, and highlights new policies, programmes and initiatives across all 17 Global Goals. LA's work to realise the SDGs is rooted in community-based partnerships and action, and includes efforts to fight inequality and poverty, reinforce safety-net programmes, and demonstrate sustainable development. This report highlights the importance of place-based solutions, and shares narratives around how the city is using both data and lived experience to improve public services, focusing on housing insecurity, LA's path to 100% renewable energy, and restorative justice-centered initiatives. With fewer than nine years remaining to 2030, our collective focus must shift from alignment to action and local governments must be empowered as the engines of sustainable development.
Population
3.967 million
Area
1302.76 ㎢
Population Density
176.8 per ㎢ (2020)
Level of Government
Local (ex. city, town, village, etc)
Carbon Emission
N/A
Carbon Footprint per capita
N/A
Carbon Absorption
N/A
Territorial Classification
Local (ex. city, town, village, etc)
Budget Size
N/A
City Profile
Los Angeles is the second largest city in the United States with a population of close to 4 million residents. Beginning in 2017, LA became one of the first cities in the world to adopt the SDGs locally. Since then, LA has published two Voluntary Local Reviews, became the first city in the world to report SDG data through an open-source platform, and launched an SDG Activities Index. LA's work on the SDGs relies on internal and external partnerships including through five local academic institutions and the more than 160 students who have contributed to this work.
The Report and more
The VLR report is available here:
2021 Voluntary Local Review of Progress Toward the Sustainable Development Goals in Los Angeles
Los Angeles Sustainable Development Goals: a Voluntary Local Review of Progress in 2019