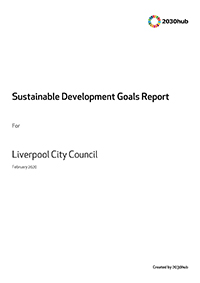 City of Liverpool
Sustainable Development Goals Report for Liverpool City Council
Insights of the Report
The 'Sustainable Development Goals Report for Liverpool City Council' has been elaborated by 2030hub to provide an independent assessment of the current standing of the City of Liverpool in achieving the SDGs. As such, the report is a snapshot of publicly available data of the 17 SDGs This report hopes to open the way for a future VLR for the city. The report concludes by recommending SDGs 1, 3, 8, 10, 11 and 13 as top priority for local action.
Population
498,042 (2019)
Area
199.6 ㎢
Level of Government
Local (city, town, village, etc)
City Profile
Liverpool is a city located in the northwest of England. The city faces the eastern side of the Mersey Estuary. Throughout its history, Liverpool has developed as an important port city, which has attracted a diverse population. The city is now an important touristic centre, thanks in part to its music culture, which nurtured bands as popular as the Beatles.
The Report and more
The VLR report is available here:
Sustainable Development Goals Report for Liverpool City Council