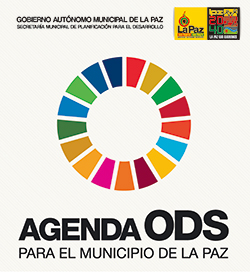 Municipio de La Paz
Agenda ODS Para el Municipio de La Paz (in Spanish)
Insights of the Report
The Municipal Autonomous Government of La Paz (GAMLP, as its Spanish acronym) has developed a series of actions to advance the localisation of the 2030 Agenda and its 17 SDGs. Given the relevancy and pertinence of the SDGs to promote the continuous improvement of quality of life and opportunities for its citizens, the city is committed to meet the challenges posed by the 2030 Agenda within its own constitutional powers and responsibilities.
Issued: August 2019
Population
951,793 (jul.2019)
Population Density
314 per ㎢ (jul.2018)
Level of Government
Local (ex. city, town, village, etc)
Carbon Footprint per capita
N/A
Territorial Classification
Budget Size
USD 304 million (2018)
City Profile
La Paz (officially known as Nuestra Señora de la Paz) is the capital of the Department of La Paz and seat of the Government of the Plurinational State of Bolivia. Its name commemorates the restoration of peace after the civil war that followed the insurrection of Gonzalo Pizarro against Blasco Nuñez Vela, First Viceroy of Peru. The city was founded the 20 October 1548 by the Spanish Captain Alonso de Mendoza, as a restplace for travelers going between Potosí and Cuzco.
The SDG Agenda of La Paz is an exercise to localise the SDGs and to show the city's commitment to meet the 2030 Agenda. It does so by linking its current planning strategies and its public policies with the 17 SDGs. In this regard, it is worth noting the importance of the statistical analysis stemming from the "SDGs Municipal Survey – 2018" (Encuesta Municipal ODS – 2018).
The Report and more
The VLR report is available here:
Agenda ODS para el Municipio de La Paz