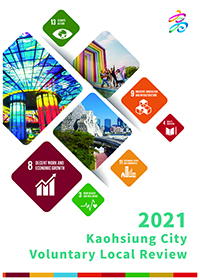 Kaohsiung City
2021 Kaohsiung City Voluntary Local Review
Insights of the Report
City transformation is the first priority for Kaohsiung to start over, combining all the local elements in nature and culture from the past to create a new sustainable future. Therefore, "KAO" was created as Knowledge + Adjustment + Organisation to present the core of city transformation. All the city plans were integrated with sustainable development, having four major priorities in "industry transformation," "creating employment," "transportation upgrade," and "air quality improvement." Declaring five energy transformation principles of "reduction of coal," "green power," "increasing gas," "zero nuclear," and "balance" for promoting municipal construction, Kaohsiung put knowledge and technology as the plan of development to create an attractive and comfortable future for the next century.
To transform industry, Kaohsiung cooperated with the central government kto create Ciaotou Science Park and assisted traditional industries in upgrading to new technology. Meanwhile, under the "Brownfield land" project, the city revitalises and reuses polluted land to develop a new Bay Area in Asia with innovative technologies connecting local enterprises, state-owned enterprises, and international companies to create a high-tech settlement. Creating an eco-city from scarred land, Kaohsiung is working towards a sustainable future, in order to achieve economic growth and environmental protection at the same time. In 2006, Kaohsiung joined ICLEI and participated in numerous international meetings and conferences. ICLEI East Asia Kaohsiung Capacity Center (ICLEI KCC) was established in 2012, and a joint contract was signed with ICLEI headquarters in Germany. KCC became the only training centre in the world, apart from the ICLEI headquarters. Building sustainable development for cities in Taiwan and East Asia, KCC encourages cities to respond to climate change and assists in education and training to promote the use of local environmental resources and handle climate change resilience connecting to the world.
Kaohsiung City uses all its resources and opportunities to enable each person to find their own dreams and realise them in this marine capital.
Population
2,753,530 (2021)
Area
2951.8524 ㎢ (2021)
Population Density
933 per ㎢ (2021)
Level of Government
Local (city, town, village, etc)
Carbon Emission
57,062,000 t (2019)
Carbon Footprint per capita
20.7
Carbon Absorption
1,770,000 t (2019)
Territorial Classification
Local (ex. city, town, village, etc)
Budget Size

City Profile
Kaohsiung City is located in southwestern Taiwan. Creating a strong economy and sustainable environment for the rich nature and unique culture, Kaohsiung delivered "KAO", Knowledge + Adjustment + Organisation, to bring sustainability into the city plan. Five major dimensions integrated into the various tasks of urban transformation, "Economy," "Employment," "Education," "Good Life," and "Living Safety" With 169 specific targets under the UN's 17 SDGs, spotlight projects reveal the related targets that show the results and goals of municipal works. Kaohsiung City is aiming to become a world-class sustainable and livable harbour city by transforming and developing towards a sustainable future.
The Report and more
The VLR report is available here:
2021 Kaohsiung City Voluntary Local Review