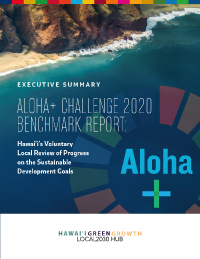 State of Hawai'i
ALOHA+ Challenge 2020 Benchmark Report: Hawai'i's Voluntary Local Review of Progress on the Sustainable Development Goals
Insights of the Report
Hawai'i's first statewide Voluntary Local Review covers six-years of data on the Alohat Challenge based on metrics that were co-developed by partners statewide across all four counties and used to track progress through an open-data Dashboard. The Aloha+ Dashboard currently tracks thirty-seven targets and over two-hundred indicators as well as county-level resources for residents to gauge their household's impact on the goals. This serves as Hawai''s Voluntary Local Review of the SDGs - the first comprehensive statewide review in the nation that includes all counties - and takes stock of Hawai''s contribution to the global goals. Moreover, the Voluntary Local Review provides 2020 benchmark data that can inform statewide COVID-19 recovery efforts, policies, and action needed in the coming decade
The Voluntary Local Review shares collective progress as well as shared challenges that cannot be solved by one group, one sector, or one administration, and will require diverse partnerships and innovation. Data indicates that Hawai'i is currently on track to meet statewide goals for renewable electricity generation and energy efficiency, greenhouse gas emissions reduction, solid waste diversion from landfills, and implementation of the first interagency biosecurity strategy. Hawai'i is near-target for the protection of native watershed forests, and has seen upward trends in volunteerism, high school and college graduation rates. Several goals need significant improvement to be achieved by 2030 including clean transportation, local food production, freshwater security and marine managed areas, and although data is limited, each has bright spots demonstrating strong successes that can be scaled.
Sustainable and regenerative tourism presents an important opportunity for action, as does investment in diversified green jobs, source reduction and circular economy strategies, which will require setting robust targets and metrics. Cost of living remains a major concern for nearly half of Hawai'i households, with the state experiencing some of the highest housing costs in the nation and ranking second highest for homelessness per capita, and near and long-term impacts from COVID-19 still unknown. Socioeconomic indicators reveal disparities from health to housing to incarceration disproportionately affecting Native Hawaiians and Pacific Islanders.
Moreover, Hawaii's 2020 Voluntary Local Review reflects the interconnectivity of the goals, such that the attainment of one goal is contingent on success of the other goals. Gaps in data availability, quality and frequency make it difficult to comprehensively measure statewide and county-level progress across each of the targets. Development of new holistic metrics such as the Genuine Progress Indicator (GP) can improve tracking of economic, social and environmental conditions. Ongoing community and stakeholder engagement will be critical to achieving Hawai'i's sustainability goals for renewable energy, local food production, affordable housing, and ecosystem health from mauka to makai (ridge to reef). Access to adequate funding to achieve the goals highlights the importance of public-private partnerships and new innovative finance opportunities, particularly in light of COVID-19's devastating local economic impact and projections for Hawai'i's economic recovery.
Hawai'i's Voluntary Local Review will reflect statewide actions and initiatives across the four counties.
Population
1,400,000
Area
10,931 km²
Level of Government
Sub-National (ex. prefectural, state, etc)
City Profile
As the most isolated population on the planet, Hawai'i faces unique challenges including a dependence on fossil fuel imports and high-cost of living to biodiversity loss, sea-level rise, and increased climate-related severe weather events. COVID-19 further underscores Hawaii's vulnerability to external disruption, affecting community and economic well-being and 'exposing systemic inequities. At the same time Hawai'i is on the frontlines of climate change and is taking innovative and bold steps to build community resilience, and is positioned to help the world navigate towards a more sustainable future.
Hawai'i has a culture of sustainability that guides action today, and is the fiber that binds strong partnerships to keep us moving forward together. Government, business and community partners are collaborating to build resilience through the Aloha Challenge: He Nohona 'Ae'oia, A Culture of Sustainability. Announced in 2014 by the State of Hawai'i and the U.S. Department of State at the United Nations' Third International Conference on Small Island Developing States (UNSIDS) meeting in Samoa, the Aloha+ Challenge is a statewide cross-sector commitment that brings together diverse partners to develop community-based 2030 goals and measurable targets across six priority areas: clean energy transformation; local agriculture; natural resource management: solid waste reduction; green workforce and education; and smart sustainable communities. The Aloha+ Challenge is led by the Governor, all four County Mayors, Office of Hawaiian Affairs and State Legislature with business and civil society, and builds on forty years of voyaging and movements including Malama Hawai', Hawai'i 2000 and Hawai'i 2050. Notably, work toward the Aloha+ Challenge is embraced by multiple administrations - a testament to the community commitment and political leadership that powers this movement. Grounded in a legacy of systems thinking and indigenous wisdom through Knaka Maoli (Native Hawaiian) host culture values and practice to malama (are for and steward), the Aloha Challenge is Hawai''s local framework to deliver on the 17 United Nations 2030 Sustainable Development Goals (SDGs) that were adopted by the international community in 2015. As part of a strategy to support local SOG implementation, the United Nations launched Local2030, a global multi-stakeholder initiative and invited Hawai'i to become one of the world's first Local2030. Hubs to support local leadership in sharing and scaling solutions. Hawai''s Aloha* Challenge model is already inspiring action in other communities, from Guam to Tasmania, with the Global Island Partnership and Local2030 Islands Network.
The Report and more
The VLR report is available here:
ALOHA+ Challenge 2020 Benchmark Report: Hawai'i's Voluntary Local Review of Progress on the Sustainable Development Goals