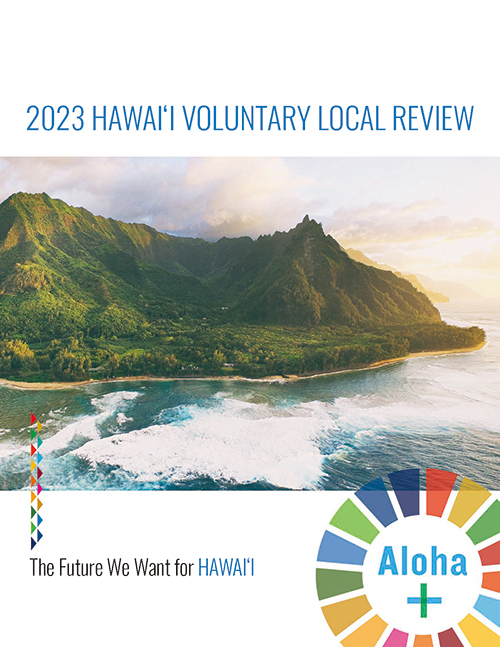 State of Hawai'i
2023 Hawaiʻi Voluntary Local Review: The Future We Want for Hawaiʻi
Insights of the Report
The Aloha+ Challenge ensures these targets are achieved in a culturally and locally appropriate manner, aligning with Hawaii's needs and values. Through progress towards these goals, Hawai'i contributes to the United Nations 2030 Agenda for Sustainable Development, a comprehensive framework of 17 Sustainable Development Goals (SDGs) and 169 related targets. These goals address poverty, protect the planet, and foster prosperity for all. As the halfway point to 2030 approaches, this second Voluntary Local Review (VLR) underscores the significance of local-level action and how it is essential to making a global impact on these goals. The Hawaiʻi VLR reinforces the notion that achieving the SDGs requires a comprehensive and inclusive approach that encompasses all levels of governance. Assessing progress at the local level provides valuable insights into the specific challenges and opportunities faced by communities, enabling tailored solutions that are rooted in local context and priorities.
Population
1,440,196 (July 2022)
Area
28,311 km² (2023)
Population Density
226.6 per square mile (2020)
Level of Government
Sub-National (ex. prefectural, state, etc)
VLR Website
Check out the Aloha+ Dashboard - an open-data platform that tracks current progress towards the Sustainable Development Goals in Hawaiʻi. More information on the 2023 Voluntary Local Review can also be found on the Dashboard. alohachallenge.hawaii.gov
Also, check our 2023 VLR Video: https://www.youtube.com/watch?v=1-6QymiIBbA
City Profile
As the most isolated population on the planet, Hawai'i faces unique challenges including a dependence on fossil fuel imports and high-cost of living to biodiversity loss, sea-level rise, and increased climate-related severe weather events. COVID-19 further underscores Hawaii's vulnerability to external disruption, affecting community and economic well-being and 'exposing systemic inequities. At the same time Hawai'i is on the frontlines of climate change and is taking innovative and bold steps to build community resilience, and is positioned to help the world navigate towards a more sustainable future.
Hawai'i has a culture of sustainability that guides action today, and is the fiber that binds strong partnerships to keep us moving forward together. Government, business and community partners are collaborating to build resilience through the Aloha Challenge: He Nohona 'Ae'oia, A Culture of Sustainability. Announced in 2014 by the State of Hawai'i and the U.S. Department of State at the United Nations' Third International Conference on Small Island Developing States (UNSIDS) meeting in Samoa, the Aloha+ Challenge is a statewide cross-sector commitment that brings together diverse partners to develop community-based 2030 goals and measurable targets across six priority areas: clean energy transformation; local agriculture; natural resource management: solid waste reduction; green workforce and education; and smart sustainable communities. The Aloha+ Challenge is led by the Governor, all four County Mayors, Office of Hawaiian Affairs and State Legislature with business and civil society, and builds on forty years of voyaging and movements including Malama Hawai', Hawai'i 2000 and Hawai'i 2050. Notably, work toward the Aloha+ Challenge is embraced by multiple administrations - a testament to the community commitment and political leadership that powers this movement. Grounded in a legacy of systems thinking and indigenous wisdom through Knaka Maoli (Native Hawaiian) host culture values and practice to malama (are for and steward), the Aloha Challenge is Hawai''s local framework to deliver on the 17 United Nations 2030 Sustainable Development Goals (SDGs) that were adopted by the international community in 2015. As part of a strategy to support local SOG implementation, the United Nations launched Local2030, a global multi-stakeholder initiative and invited Hawai'i to become one of the world's first Local2030. Hubs to support local leadership in sharing and scaling solutions. Hawai''s Aloha* Challenge model is already inspiring action in other communities, from Guam to Tasmania, with the Global Island Partnership and Local2030 Islands Network.
The Report and more
The VLR report is available here:
2023 Hawaiʻi Voluntary Local Review: The Future We Want for Hawaiʻi
ALOHA+ Challenge 2020 Benchmark Report: Hawai'i's Voluntary Local Review of Progress on the Sustainable Development Goals