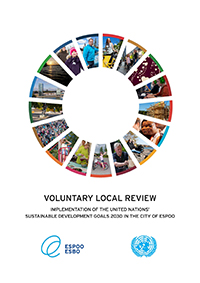 Espoo
Voluntary Local Review: Implementation of the United Nations' Sustainable Development Goals in the City of Espoo.
Insights of the Report
Espoo, which according to a study by the European Union is the most sustainable city in Europe, seeks to remain at the forefront of sustainable development. The city formulated its strategy having listened to the voices of its residents, companies, and communities. Espoo's Voluntary Local Review is an opportunity not only to measure the city's sustainability, but also a way to join the global conversation on how to better localise the 2030 Agenda. The VLR maps concrete actions and projects encompassing the city's local strategy with the SDGs. The VLR reviews the 17 SDGs with particular focus on SDGs 4, 9, and 13.
Issued: June 2020
Population
284,444 (2019)
Level of Government
Local (ex. city, town, village, etc)
Carbon Footprint per capita
N/A
Territorial Classification
City Profile
Located on the Gulf of Finland, Espoo is the second largest city in Finland and part of the Finnish Capital Region. Due to its proximity to Helsinki, the city's population grew rapidly from 1950, becoming a major economic and cultural centre. The city is home of Aalto University as well as several major companies including Nokia and Rovio. The National Park of Nuuksio lies within the city boundaries.
The Report and more
The VLR report is available here:
Espoo Voluntary Local Review