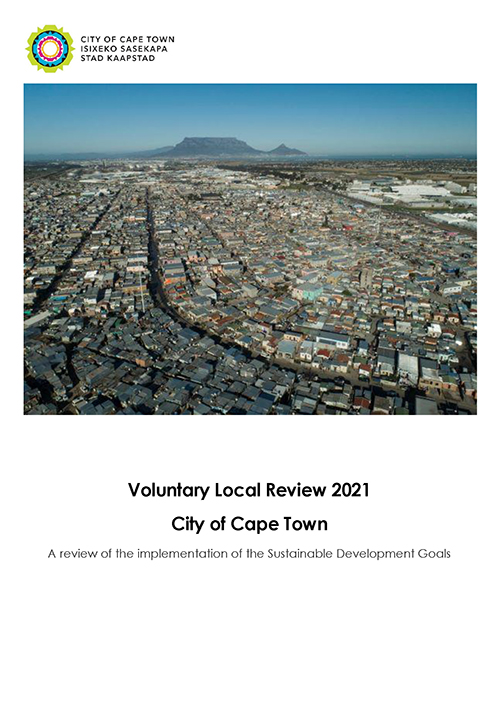 Cape Town
Voluntary Local Review 2021 City of Cape Town: A Review of the Implementation of the Sustainable Development Goals
Insights of the Report
Cape Town became the first South African city to present a VLR. The VLR report aims at reinforcing the city's commitment to sustainable development, fighting climate change, and reducing its greenhouse gas (GHGs) emissions. The VLR identifies the areas of competence of the city and sets up eight priority SDGs, namely SDG 1, 2, 6, 8, 9, 11, 13 and 17. The VLR monitors progress towards the 2030 Agenda by using a traffic light assessment tool with five different categories: (1) data is available and shows a positive trend; (2) data is available but shows little change over time; (3) insufficient data and./or mixed trend; (4) data is available but shows a negative progression; and (5) no city-level data available.
Population
4,710,000 (2021)
Area
2,461 ㎢
Population Density
1900 per ㎢ (2021)
Level of Government
Local (ex. city, town, village, etc)
City Profile
Cape Town lies on the shore of Table Bay. It is the legislative capital of South Africa and one of its three capital cities. Cape Town is the second largest city in the country and the second biggest economic centre after Johannesburg, making this Africa's third main economic hub. Its economy relies heavily on tertiary activities, such as tertiary information technology companies. In recent times, space industries have proliferated in the city. Moreover, Cape Town is a significant tourist centre.
The Report and more
The VLR report is available here:
Voluntary Local Review 2021 City of Cape Town: A Review of the Implementation of the Sustainable Development Goals