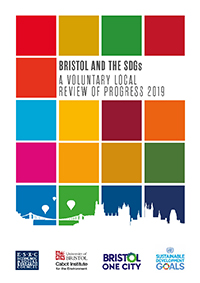 Bristol City Council
Bristol and the SDGs: A Voluntary Local Review of Progress 2019
Insights of the Report
In producing this report we encountered a range of difficult questions, data issues and new insights. The functional area of Bristol is much larger than the City of Bristol – the subject of this report. The difference between the de facto urban area and formal administrative boundaries create challenges in both implementing and monitoring the Goals at sub-national level. There is a clear need for an indicator framework that is tailored to the urban scale and suitable across income contexts. A subnational perspective also highlights the importance of disaggregating data if we are to take the 'leave no one behind' ethos of the goals seriously. Looking forward, cities have an important role to play in tackling global challenges, including influencing how the concentrations of capital in cities are channelled beyond their boundaries. But cities cannot do it alone. City governments need support from private sector and non-profit actors, as well as higher tiers of government and international organisations. The SDGs provide the kind of shared vision needed to forge strategic cross-sectoral partnerships to achieve a sustainable future.
Issued: July 2018
Population Density
4,175 hab/㎢
Level of Government
Local (ex. city, town, village, etc)
Carbon Emission
1,547 k tonnes (2018)
Carbon Footprint per capita
4.68
Territorial Classification
Budget Size
GBP 355.8 million / USD 445.43 million
City Profile
Bristol is a diverse, creative and internationally integrated city in the South West of England. It was from Bristol that some of the first European ships sailed west to explore uncharted waters, and Bristol played a key role in Atlantic commerce, profiting from the tobacco and slave trades in particular. While the city grew rich from this commerce, it still grapples with the legacy of its role in the slave trade. Bristol's international history is reflected in its contemporary diversity. The population comes from 187 countries, speaking 91 different languages.
The adoption of the SDGs developed through partnership. In 2017, members of Bristol's SDG Alliance received funding from the University of Bristol to support efforts to 'localise' the SDGs and integrate them into the One City Plan.
The Report and more
The VLR report is available here:
Bristol and the SDGs: A Voluntary Local Review of Progress 2019