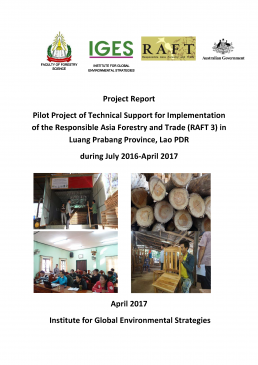 Lao PDR has development of forest planation industry based on smallholders. Teak was first planted in Luang Prabang Province since 1950s. Teak plantation have capacity to provide significant financial benefits to smallholders. Although the Lao timber industry has grown rapidly over the past ten decades, the export value of finished wood products has been very low. Local small furniture producers are struggle with having such good quality of drying operation due to a lack of appropriate drying facility and affordable drying option. This obstacle requires financial supports to facilitate smallholder teak producers to improve their processing and producing better teak products.
Number of smallholders have that have formally registered their plantation is small. Common problems are lack of understanding of harvesting regulations, difficulties with land registration, and low capacity to market timber. Development of teak plantation registration system is difficult for local officers due to lack of GIS skills and capacity to assess teak inventory, and lack of teak plantation registration database at provincial level.
With financial support of the Australian Government through the Responsible Asia Forestry and Trade (RAFT 3) partnership for project in Lao PDR, Institute for Global Environmental Strategies (IGES) in cooperation with National University of Laos (NUOL) are responsible for two activities of "Build capacity of provincial forestry officers of Luang Prabang Province to properly conduct and inventory and mapping of teak resource at the provincial level by using Arc GIS" and "Build capacity of smallholder teak producers on development of a low-cost timber drying kiln and utilization of low grade timber and off-cuts" and deliverables throughout two years of project duration (July 2016-March 2018).
This report presents the results of project activities during July 2016 – April 2017. The reminder of this report is structured as follows. Section 2 reviews the situation of teak production in Luang Prabang and the background of smallholder teak producers under the Luang Prabang Teak Program (LPTP). Section 3 presents construction of a low cost timber drying kiln for the LPTP grower group in Ban Kokngiew and summary of content of two training workshops. Section 4 presents overall outcomes of project over past one year, and section 5 provides overall recommendation for the next step.