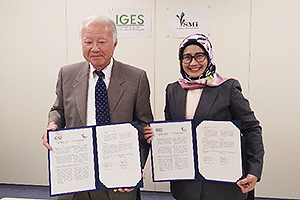 On 14 February 2019, IGES and PT Sarana Multi Infrastruktur (PT SMI, headquartered in Indonesia), signed a Memorandum of Understanding on Academic Partnership to work together on the Sustainable Development Goals (SDGs).
PT SMI is an infrastructure financing company which was established on 26 February 2009, as a State-Owned Enterprise (SOE) with 100% of shares owned by the Government of Indonesia (GOI), through its Ministry of Finance (MOF). PT SMI plays an active role in facilitating financing as well as preparing and serving as an advisor for infrastructure projects in Indonesia. PT SMI is responsible for supporting the Government's infrastructure development agenda for Indonesia through Public-Private Partnerships (PPP) with private and/or multilateral financial institutions, projects in which PT SMI can serve as a catalyst in accelerating the country's infrastructure development.
In response to the SDGs, PT SMI established the "Sustainable Financing Division" in 2016, which focuses on channeling development funds related to climate mitigation projects. The company also supports the financing of SDG-related projects through enhancement of internal Environmental and Social Safeguards to meet international standards, and issuance of Green Bonds as a possible fundraising activity, to enhance the company's financing capacity for green infrastructure projects.
Recently, on 5 October 2018, Indonesia's Ministry of Finance (MOF) launched "SDG Indonesia One" (SIO), an integrated funding collaboration platform which supports infrastructure development oriented towards the Sustainable Development Goals. SIO will serve as a financial instrument to mobilize public and private investment for activities that demonstrate how financial and technical incentives can be scaled-up to support adaptation and mitigation in a coherent and integrated manner. PT SMI received a mandate from the MOF to act as a local strategic partner for project investors. Under the SOI, PT SMI also supports research studies in higher education institutions through the development of SDG Centers at five major universities in Indonesia (University of Indonesia, IPB University, Institute Technology Bandung (ITB), Gajahmada University (UGM), and Institute Technology Surabaya (ITS)). Each SDG Center is expected to be a place for research on multidisciplinary topics related to achieving the SDGs in Indonesia. PT SMI will support the higher education institutions through capacity building activities for academics and policy makers at the local and national levels. PT SMI also aims to establish INFRALIB (Infrastructure Library), an online library platform dedicated to sustainable infrastructure in Indonesia.
This Agreement will strengthen cooperation between IGES and PT SMI in their work related to the SDGs in the following areas: (a) Capacity building; (b) Research activities; (c) Monitoring and assessing SDG implementation and achievement; and (d) Networking in Indonesia and the Asia Pacific Region. One practical way of achieving this agreement is to continue cooperation to improve green urban transport infrastructure (BRT) in Semarang City, the green campus in Diponegoro University Semarang, and to support cooperation between Japanese and Indonesian cities.