19 November 2021 at 4:00 – 5:30 PM. (Bangkok Time)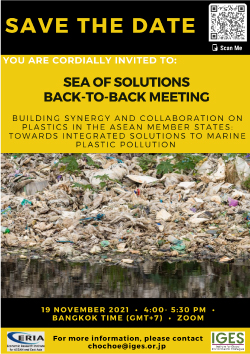 PDF 626KB
Having access to accurate plastic data and the capacity to translate it into actionable recommendations should be the basis of any national strategic priority setting and policymaking. In ASEAN countries, however, there are big gaps in data availability on plastic at many stages of its life-cycle, and expertise surrounding it is insufficiently coordinated in order to make integrated policy recommendations on both national and regional levels. Analyzing currently available data to draw an overall picture of the issue would be the first step to address these gaps.
Economic Research Institute for ASEAN and East Asia (ERIA), Institute for Global Environment Strategies (IGES), and the IGES Centre Collaborating with UNEP on Environmental Technologies (CCET) organised the SEA of Solutions Back-to-Back Meeting on Building Synergy and Collaboration on Plastics in the ASEAN Member States: Towards Integrated Solutions to Marine Plastic Pollution on 19 November 2021. The event brought together over 120 registered participants including experts from a diverse set of disciplines, government officials, international organisations, NGOs, academia and private sector.
The meeting focused on the establishment of the ERIA's Experts Working Group on Marine Plastic Debris to support the Regional Knowledge Centre for Marine Plastic Debris (RKC-MPD), identification of data collection capacity and data availability across the plastic value chain of the ASEAN Member States as well as provided panelists and other attendees with an opportunity to exchange information on the important of integrated solutions to the plastic waste and marine plastic pollution.
Please download a summary of our meeting report here.

Event Details
Date/time
19 November 2021 at 4:00 – 5:30 PM. (Bangkok Time)
Organisers
Economic Research Institute for ASEAN and East Asia (ERIA)
Presentation Materials
MC: Ms. Chochoe Devaporihartakula, Programme Manager, Institute for Global Environmental Strategies (IGES)
Part 1: Capacity Building and Information Sharing on Plastics in the ASEAN Member States
Introduction of the Economic Research Institute for ASEAN and East Asia (ERIA)'s Experts Working Group on Marine Plastic Debris
Mr. Michikazu Kojima, Research Fellow, Regional Knowledge Centre for Marine Plastic Debris, Economic Research Institute for ASEAN and East Asia (ERIA)
Data on Plastics in the ASEAN Member States: Current Status and Future Directions
Dr. Vivek Anand Asokan, Policy Researcher, Institute for Global Environmental Strategies (IGES)
Reflection of the Presentations
Dr. Vong Sok, Head of Environment Division, Assistant Director of Sustainable Development Director, ASEAN Secretariat
Part 2: Panel Discussions and Engagement with Audience
Moderator
Dr. Vong Sok, Head of Environment Division, Assistant Director of Sustainable Development Director, ASEAN Secretariat
Panelists
Ms. Youna Lyons, Senior Research Fellow, National University of Singapore
Mr. Muhammad Reza Cordova, Researcher, Research Center for Oceanography, Indonesian Institute of Sciences
Dr. Kavinda Gunasekara, Geoinformatics Center, Asian Institute of Technology
Ms. Kamala Ernest, Programme Management Officer - Coordinator of SEA circular Project, UN Environment Programme
Q and A
Wrap-up