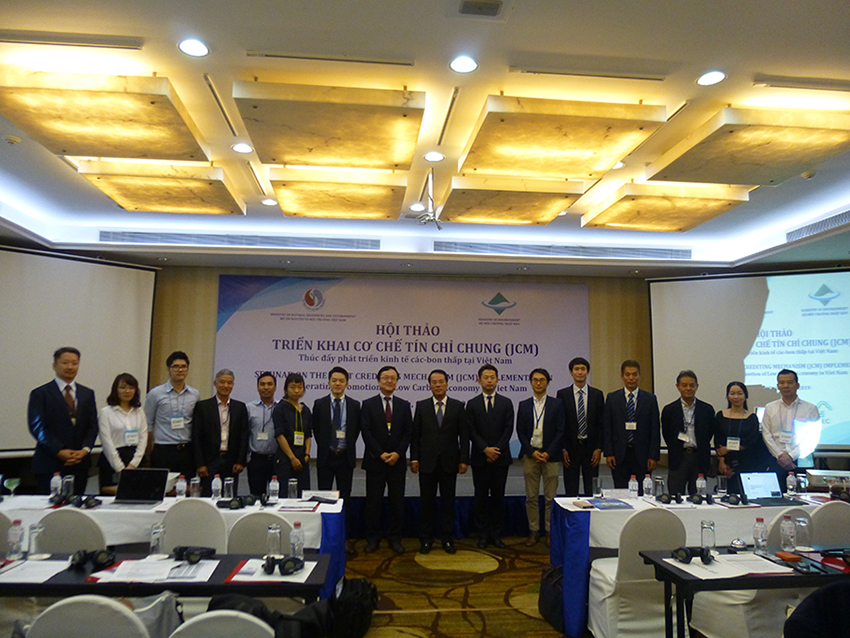 On 10 October 2019, the Institute for Global Environmental Strategies (IGES), the Global Environmental Centre Foundation (GEC), and the Ministry of Natural Resources and Environment (MONRE) of Vietnam jointly organized a workshop on the Joint Crediting Mechanism (JCM), in Ho Chi Minh City, Vietnam.
The aim of the workshop was to disseminate information about the JCM in Vietnam, such as its current status, various financial schemes, and the experiences of governments and project participants. Among the series of presentations, IGES researchers gave an "Update on the JCM and Financing Program" and discussed "Measurement, Reporting and Verification (MRV) of the JCM". GEC introduced the financing programme for JCM Model Projects and JCM Global Match. The presentation by MONRE focused on the policies and regulations for managing GHG emission reductions, and the JCM rules and guidelines in Japan and Vietnam. Representatives of the private sector in both countries shared their experiences and lessons learned from JCM project implementation, and also introduced their projects. Around 140 participants from both the public and private sectors attended the workshop and actively discussed the future development of the JCM in Vietnam.
In the afternoon session, many participants stayed for a business matchmaking and consultation with IGES, GEC, and MONRE. This session further contributed to a deepened understanding of the JCM among the interested participants.
Event Details
Organisers
Ministry of Natural Resources and Environment (MONRE) of Vietnam
Languages
English / Vietnamese with simultaneous interpreting
(Simultaneous interpretation)
Contact
IGES Climate and Energy Area
2108-11 Kamiyamaguchi, Hayama, Kanagawa,
240-0115 Japan
Tel: +81-46-874-7604
Fax: +81-46-855-3809
E-mail: [email protected]