What are SDGs?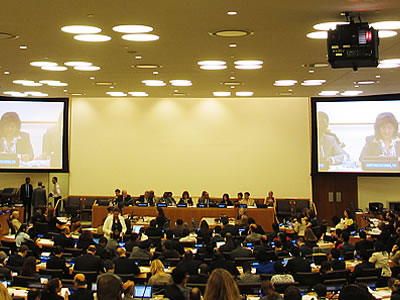 The international community is currently accelerating its efforts to ensure that the Millennium Development Goals (MDGs) are a common goal for the world. On the other hand, the situation is different from when the MDGs were adopted in 2000, with a wider range of actors now involved in various development activities. The environment surrounding multilateralism is not what it used to be. Furthermore, economic and financial crises are plaguing the world, and natural disasters are making the global situation unstable. In addition, remarkable progress in emerging economies is changing the international situation. In the face of all these changes, new challenges such as climate change and renewable energy cannot be fully addressed by the MDGs, and still other issues will remain even if the MDGs are met, including a growing unemployed population, soaring food prices and widening income gaps.
Taking these changes and challenges into consideration, the United Nations' SDGs Open Working Group (OWG) of 30 representatives was established based on the agreement at the United Nations Conference on Sustainable Development (UNCSD, Rio+20 hereafter), held in June 2012 in Rio de Janeiro, Brazil, and announced its final outcome document in July 2014. In this report, OWG proposed a set of SDGs: 17 goals and 169 targets, to be discussed through negotiations by the UN General Assembly beginning in September 2014, and adopted as official goals by the end of 2015. SDGs are expected to be aspirational, integrated, transformative, actionable and universal, targeting both developed and developing countries.
Various efforts have also been made in the specific areas of sustainable development, including a High-level Panel of Eminent Persons on the Post 2015 Development Agenda to advise on the global development agenda beyond 2015 which published its final report in June 2013, a follow-up of the United Nations Decade of Education for Sustainable Development (DESD, 2005-2014) initiated after the Johannesburg Summit in 2002, a Sustainable Energy for All initiative launched by the United Nations Secretary-General Ban Ki-moon, and a 10-year framework of programmes on sustainable consumption and production adopted at Rio+20. These processes, including SDGs negotiations, will play a major role in setting development goals for the post-2015 world.
IGES has followed and continues to follow these key international processes on the post-2015 sustainable development agenda, and the Institute provides policy recommendations from Asian perspectives, as well as endeavouring to promote regional efforts for sustainable development through sharing these research outcomes with concerned stakeholders such as the Government of Japan, relevant international organisations and the research community.
Related links
Sustainable Development Solutions Network (SDSN)
The Independent Research Forum (IRF) 
a collaboration of 10 international research institutions of which IGES is a member. IRF2015 provides critical thinking, integrated analysis and awareness raising on Sustainable Development Goals (SDGs) and a post-2015 development agenda. IRF
International Institute for Sustainable Development (IISD) Post-2015 Update
What comes after the MDGs? (ODI)