Event: IEA – EBC – Annex 83
Date: Espoo, Finland, April 29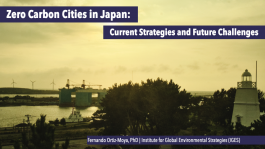 This presentation explores how Japanese cities are planning to transition to net-zero greenhouse gas emissions. It first reviews national mechanisms in place to support local governments' efforts to become net-zero. The presentation continues by presenting the case of Kitakyushu City and its current policies. It concludes by asking how a shrinking and ageing population might affect local government's ambitions to be zero carbon.
Event: IEA – EBC – Annex 83
Date: Espoo, Finland, April 29