Event: Annual Meeting of the Architectural Institute of Japan
Date: Kanazawa, Japan, September 3-6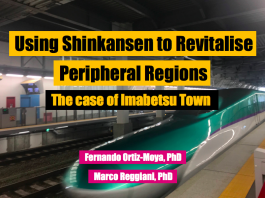 This paper explores how high-speed railway (HSR) development can aid the survival of peripheral depopulating regions by increasing their connectivity. It focuses on the recently opened 'Okutsugaru-Imabetsu Station' of the Hokkaido Shinkansen in Imabetsu town, the smallest locality in Japan to enjoy a Shinkansen station. Based on this case study, this paper questions the capacity of high-speed railway to trigger revitalisation in small shrinking areas. We argue that just the opening of the station will not bring the expected benefits without accompanying policies to support social and economic development.
Event: Annual Meeting of the Architectural Institute of Japan
Date: Kanazawa, Japan, September 3-6