Event: USAID Adapt Asia-Pacific Second Annual Meeting
Date: 3-4 June 2013 (Nadi, Fiji)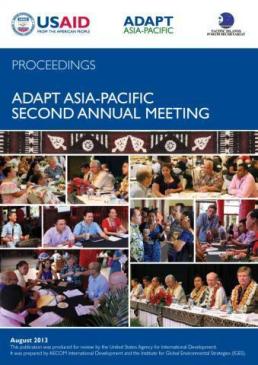 The USAID Adapt Asia-Pacific 2nd Annual Meeting was held on 3-4 June 2013 in Nadi, Fiji, in collaboration with the Pacific Islands Forum Secretariat (PIFS) and Secretariat of the Pacific Regional Environment Programme (SPREP) and supported by UNDP, USAID and AusAID.

This conference proceeding report outlines the discussions of the meeting that focused on how development partners can better assist in improving access to resources for climate change financing in the country-specific context and needs of Pacific Island Country members. The meeting also helped improve the countries' understanding of the various climate change adaptation funding sources available and their requirements.
Event: USAID Adapt Asia-Pacific Second Annual Meeting
Date: 3-4 June 2013 (Nadi, Fiji)