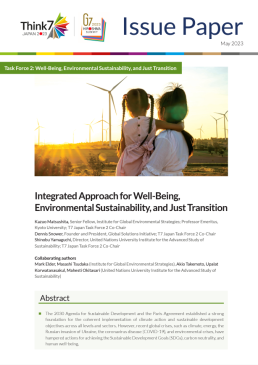 The 2030 Agenda for Sustainable Development and the Paris Agreement established a strong

foundation for the coherent implementation of climate action and sustainable development

objectives across all levels and sectors. However, recent global crises, such as climate, energy, the

Russian invasion of Ukraine, the coronavirus disease (COVID-19), and environmental crises, have

hampered actions for achieving the Sustainable Development Goals (SDGs), carbon neutrality, and

human well-being.

The world has crossed several planetary boundaries undermining the Earth's ability to

support human life.

Environmentally sustainable solutions are prerequisites to achieving other key Group

of Seven (G7) priorities, such as economic prosperity, energy security, global health, and

education. Environmental sustainability measures should be implemented to achieve a just

transition while promoting human well-being, especially job creation. Integrated solutions

are required to achieve these priorities simultaneously.

The Russian invasion of Ukraine should be a turning point in seizing the opportunity to

address the world's unfolding climate crisis by rapidly reducing the reliance on fossil fuels.

The Russian invasion of Ukraine does not change the nature of the needed solutions but

increases the urgency of sustainability crises.

The G7 leaders, in close collaboration with other Group of Twenty (G20) leaders, should

reignite actions for the SDGs, carbon neutrality, and climate-resilient development

through an integrated and holistic approach considering well-being, environmental

sustainability, and a just transition to staying within planetary boundaries. These actions

must include effective measures related to finance, science and technology, governance,

capacity building, and education based on scientific evidence.

To deliver such measures, the G7 countries should (i) decarbonize energy systems for

carbon neutrality through accelerated investment in clean energy systems and electric

public mobility, and strengthen regulatory frameworks to promote a circular economy,

low-carbon built environment, and artificial intelligence-enabled human-positive world;

(ii) foster sustainable food systems and biodiversity conservation to significantly reduce

carbon footprints, strengthen natural carbon sequestration, and achieve greenhouse gas

emission reduction targets; (iii) enhance resilience, social protection, and social security

to mitigate the disruption caused by the transition; (iv) finance the promotion of a just

transition; (v) create a consistent mechanism that annually measures just transition,

environmental sustainability, and well-being; (vi) strengthen partnerships for climate and

sustainable development; and (vii) promote capacity, education, and youth empowerment.

Our recommendations in this issue paper thus require the G7 to substantially increase its

support for developing countries to address climate change and other high priorities. The

support could also significantly reduce the risk of climate insecurities.