Event: European Association for Japanese Studies (EAJS) Conference in Japan
Date: September 14-15 (University of Tsukuba, Tsukuba, Japan)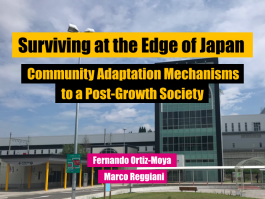 Low birth rates, restrictive immigration policies, and decades of economic stagnation are marking Japan's transition to a post-growth society. All levels of government have hurried to address the new challenges ahead. In this desperate run for survival, the development of new high-speed railway lines in peripheral areas has been met with high expectations for a new prosperity. The case of Imabetsu Town, Aomori Prefecture, well exemplifies this tendency. Located at the northernmost tip of Honshu, its population has more than halved since the 1950s and, in 2016, it became the smallest municipality in the country to join the Shinkansen network with the opening of the Okutsugaru-Imabetsu Station along the new Hokkaido Shinkansen line. Local authorities have devised a host of policies to take advantage of the development promised by high-speed railways and revitalise the town's economy. However, initial data about the usage of the station do not seem encouraging. This paper explores the policy and social responses to the town's decline while questioning the hoped positive effects of the opening of the Shinkansen station. It argues that even though the Shinkansen improved accessibility, the station in and of itself does not have the potential to solve the structural problems of the town. By taking Imabetsu Town as case study, the paper calls for a careful re-evaluation of the still accepted pro-growth discourse within post-growth Japan.
Event: European Association for Japanese Studies (EAJS) Conference in Japan
Date: September 14-15 (University of Tsukuba, Tsukuba, Japan)