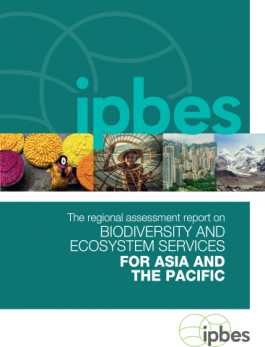 The Regional Assessment Report on Biodiversity and Ecosystem Services for Asia and the Pacific produced by the Intergovernmental Science-Policy Platform on Biodiversity and Ecosystem Services (IPBES) provides a critical analysis of the state of knowledge regarding the importance, status, and trends of biodiversity and nature's contributions to people. The assessment analyses the direct and underlying causes for the observed changes in biodiversity and in nature's contributions to people, and the impact that these changes have on the quality of life of people. The assessment, finally, identifies a mix of governance options, policies and management practices that are currently available to reduce the loss of biodiversity and of nature's contributions to people in that region. The assessment addresses terrestrial, freshwater, and coastal biodiversity and covers current status and trends, going back in time several decades, and future projections, with a focus on the 2020-2050 period.

The present document, the Summary for Policymakers of the Assessment Report, was approved by the sixth session of the Plenary of IPBES (Medellín, Colombia, 18-24 March 2018). It is based on a set of chapters which were accepted
at this same Plenary session. The chapters are available as document IPBES/6/INF/5/Rev.1 (www.ipbes.net).