In Journal of Johkasou
Volume (Issue): August 2019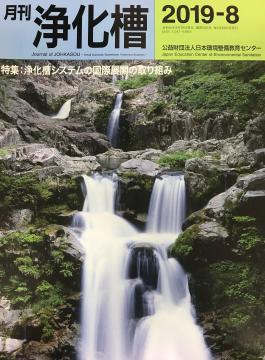 The Asian region continues to experience rapid population growth, urbanisation, industrialisation and changes in consumption patterns, including shifting diets toward highly water-intensive foods such as meats, which have led to a significant increase in water demand, placing a huge burden on water infrastructures in many countries of the region. Consequently, the quantity and pollution loads of wastewater produced are constantly increasing. A considerable amount of wastewater in the region, particularly from developing countries, is not properly treated before being discharged. Estimates show that 85–89% of generated wastewater in Asia is discharged directly into water bodies without any treatment or only partially treated by simple on-site sanitation systems such as septic tanks, causing substantial levels of contamination in drinking water sources, as well as inland and coastal ecosystems. Meanwhile, majority of urban residents in the region are still relying on septic tanks as predominately onsite sanitation solution to treat their domestic wastewater before discharging to nearby water environment. Unfortunately, most of these septic tanks are often not standard design, improperly constructed, inaccessible for desludging, and lack of regular maintenance and desludging. These are the main reasons leading to poor performance of the tanks, affecting the quality of effluent discharged into environment. Consequently, instead of acting as effective onsite sanitation facility, many septic tanks installed in the region are considered diffuse sources of pollution. This paper discusses a number of identified and common challenges in addressing septage sludge management related issues in Asia, particularly in ASEAN countries. It also proposes some key strategic and policy recommendations, which help the region to address the challenges.
In Journal of Johkasou
Volume (Issue): August 2019