Event: International Conference of Asia-Pacific Planning Societies 2017
Date: 24-26 August 2017, Nagoya City, Japan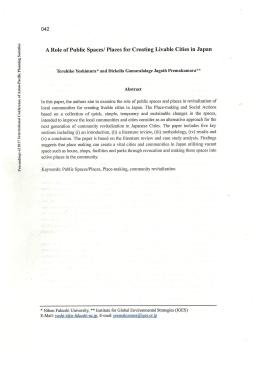 In this paper, the authors aim to examine the role of public spaces and places in revitalization of local communities for creating livable cities in Japan. The Place-making and Social Actions based on a collection of quick, simple, temporary and sustainable changes in the spaces, intended to improve the local communities and cities consider as an alternative approach for the next generation of community revitalization in Japanese Cities. The paper includes five key sections including (i) an introduction, (ii) a literature review, (iii) methodology, (iv) results and (v) a conclusion. The paper is based on the literature review and case study analysis. Findings suggests that place making can create a vital cities and communities in Japan utilizing vacant space such as house, shops, facilities and parks through revocation and making these spaces into active places in the community.
Event: International Conference of Asia-Pacific Planning Societies 2017
Date: 24-26 August 2017, Nagoya City, Japan