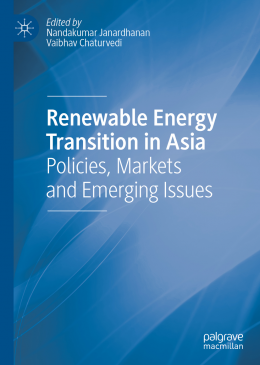 The Asian countries have diverse economic profiles, energy consumption patterns, greenhouse emissions, climatic conditions and socio-political landscapes. These dynamics bring into focus that drawing a uniform framework to define the energy transition process for the region is a difficult task. Keeping in view of this reality, this book identifies major themes and regions that would make value addition to the existing literature on energy transition. The framework with which the book has been developed showcases the interplay of four critical influencers— businesses, political economy actors, governments and geopolitical actors—and the impact of the same on policy mechanisms, governance and institutions, politics, markets and technology; elements that have a remarkable influence on the energy transition in the Asian region. The framework also highlights the multiple benefits of energy transition which include shaping climate mitigation initiatives, enhancing energy security, strengthening energy access, and addressing concerns pertaining to energy-water nexus.
The geopolitical equations that govern the global economic relations and trade, especially that of the clean energy industry will witness remarkable changes in the years to come. The flow of finances and technology among countries that lead energy transition would also witness a far more different trend than what was evinced until 2019. Manufacturing and industries that have been part of conventional as well as non-conventional energy sector will witness changes. This will also lead to corresponding changes in the patterns of interdependence among countries. The discussions in this book on International Solar Alliance, renewable energy development in India, China and South Korea, and the energy transition initiatives in the Persian Gulf region deserve special attention in this context. Similarly, technology will play a critical role in the energy transition in the years ahead. The collaboration between countries will be one of the major elements that the readers would find interest in.
This book presents meaningful insights into the dynamics of energy transition in Asian region, to a wider set of readers in academic, policy making and research domains within Asia and beyond.