Event: Second International Conference on Energy Research and Social Science
Date: 30 May 2019, at Arizona State University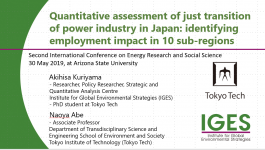 The framework of "Just Transition" is important to implement policies towards decarbonisation of power sectors (DPS) in Japan. Using the existing DPS scenarios and employment factors for the power sectors based on an extended input-output tables, this study analysed "Just Transition" issues, along with three further aspects: distributional justice to identify key impacts in terms of location and stakeholders, recognition justice to assess key inequalities by a transition and procedural justice dealing with fair process and possible measures to enhance acceptability of climate policies. Based on the findings, this study provided policy options for transition management with "Just Transitions".
Event: Second International Conference on Energy Research and Social Science
Date: 30 May 2019, at Arizona State University