In INTERNATIONAL JOURNAL OF DISASTER RESILIENCE IN THE BUILT ENVIRONMENT
Volume (Issue): 9 (4/5)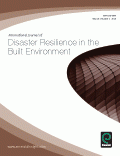 This paper aims to identify and prioritize key non-economic loss and damages (NELDs) caused by the 2009 Cyclone Aila in Khulna District of Bangladesh and to identify appropriate practices to address the NELDs. The analytic hierarchy process was applied to prioritize key criteria, NELD indicators and practices that should be integrated into disaster risk reduction decisions at the local level. The results showed the need for prioritizing NELDs at the local level, and especially for integrating into DRR policy and planning for addressing NELDs. The results indicated that the national disaster management plan could be enhanced to address issues related to inaccessible sanitation, waterborne diseases and mental disorders, and the school discontinuation. The results are specific to Bangladesh. Readers may find them applicable to other similar country situations. The suggested risk reduction practices for addressing NELDs are effective for policymakers to prepare for the future extreme cyclone disasters. The study identifies "compliance with societal value" as an important criterion for decision-making in the affected communities. Societal value can be a basis to determine effective practices to address the NELDs. To the best of the authors' knowledge, the study is the first ever effort to identify and prioritize NELDs of cyclones in the coastal areas of Bangladesh and therefore might have a greater implication for DRR policy of Bangladesh.
In INTERNATIONAL JOURNAL OF DISASTER RESILIENCE IN THE BUILT ENVIRONMENT
Volume (Issue): 9 (4/5)